02 janvier 2020

H-France - What the (French) Revolution Means Today
https://h-france.net/h-france-salon-volume-11-2019/

This series, spearheaded by Marisa Linton, commemorates the 230th anniversary of the Revolution,
but also intends to inspire reflection
on what the Revolution may continue to mean for us as scholars, teachers, and citizens.
Five of these interwoven strands follow (released as individual issues), each with contributions from four or five scholars.

Rethinking the French Revolutionary Terror
Edited by Marisa Linton, Kingston University

The first, "Rethinking the French Revolutionary Terror," edited by Marisa Linton, challenges some of our pervasive assumptions as scholars and teachers of the Revolution. Contributors to this strand question whether it is useful to talk about the Terror as a coherent and capitalized event, and consider what violence and trauma meant at other moments of the Revolution.
The Revolution Abroad
Edited by Annie Jourdan, University of Amsterdam
Revisiting French Revolutionary Culture
Edited by Sophie Matthiesson, National Gallery of Victoria, Melbourne
Whose Rights ? The French Revolution and the Present
Edited by Ian Coller, University of California, Irvine
The French Revolution Beyond the Academy
Edited by Guillaume Mazeau, Université Paris-1 Panthéon Sorbonne
Discussion :
230 years after: what does the French Revolution mean today ?
Reflections

.
29 août 2019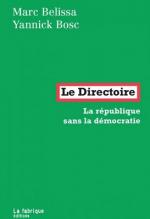 Le Directoire - La république sans la démocratie
Marc Belissa, Yannick Bosc
http://lafabrique.fr/le-directoire/

sur le site H-France, compte rendu par Laura Mason, Johns Hopkins University (via ND cvuh).
http://h-france.net/vol19reviews/vol19no115mason.pdf

Aux origines de la République macronienne, Lundi-AM
http://lundi.am/Aux-origines-de-la-republique-macronienne

via le blog de Claude Guillon,
http://unsansculotte.wordpress.com/
un extrait : « L'historiographie du « moment thermidorien » compris
comme la période entre l'exécution des « robespierristes » à partir du 10 thermidor an II (28 juillet 1794)
et l'installation du Directoire le 1er vendémiaire an IV (26 octobre 1795) — a été entièrement renouvelée depuis 1989,
notamment avec les travaux de Françoise Brunel et Bronislaw Baczko,
puis avec les colloques de 1995 sur « Le tournant de l'an III » dirigé par Michel Vovelle
et celui sur « 1795, Pour une République sans Révolution » dirigé par Roger Dupuy et Marcel Morabito.

Citons également L'automne de la Révolution de Sergio Luzzatto (ouvrage paru en italien en 1994 et traduit en français en 2001), et enfin, plus près de nous, l'ouvrage de Yannick Bosc sur Thomas Paine en l'an III ou celui de Loris Chavanette. Cette période, d'une redoutable complexité politique, est donc aujourd'hui étudiée pour elle-même et non plus comme une simple parenthèse entre les débuts de la Convention et le Directoire ».

- Les liens vers le carnet et le site de la SER (soc des études robespierristes)
http://ser.hypotheses.org/
http://etudesrobespierristes.com/
http://etudesrobespierristes.com/spip.php?page=plan

- « La réception de « Rights of Man » (Thomas Paine) aux Etats-Unis (1791) »
une conférence en 2 parties, avec liens vers les vidéos et vers une transcription

- Publications de Marc Belissa
http://fr.wikipedia.org/wiki/Marc_Belissa
http://www.parisnanterre.fr/m-marc-belissa--700481.kjsp
dont Marc Belissa et Yannick Bosc, Robespierre. La fabrication d'un mythe, Ellipses, 2013
et l'édition « Le moment thermidorien de Charles-François Dumouriez. Œuvres politiques (1795) »

- The Oxford Handbook of the French Revolution
Edited by David Andress
sommaire :
http://www.oxfordhandbooks.com/view/10.1093/oxfordhb/9780199639748.001.0001/oxfordhb-9780199639748
dont Pierre-Yves Beaurepaire « The View from Below : The 1789 cahiers de doléances »


.

30 mai 2019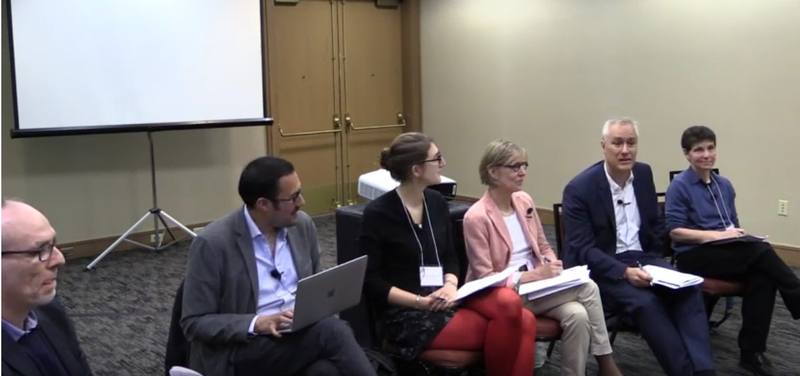 L'Histoire mondiale de la France as Historical Experiment and Literary Phenomenon (source ND)
http://h-france.net/h-france-salon-volume-11-2019/#1109

(audio et vidéo, en 2 parties)
de gauche à droite :
Roundtable Moderator : Stéphane Gerson, New York University
Pierre Singaravélou, University of Paris I Panthéon-Sorbonne
Co-editor of Histoire mondiale de la France
Sarah Gensburger, CNRS
Alice Conklin, Ohio State University
Eric Jennings, University of Toronto
Contributing author, Histoire mondiale de la France
Katherine Crawford, Vanderbilt University
.
SHFS 2019 – Indianapolis – avril 2019 - (Society for French Historical Studies)
http://www.sfhsconference.org/program
dans le programme (et parfois en vidéo)
Using Digital Tools to do Public History
L'histoire publique comme outil de production de la recherche : retours d'expériences

The Old Regime on Screen: Representations and Misrepresentations of Kings and their Courts in Film and Fiction
[ NB : Histoire et Fiction : Le(s) Rois(s) et la Cour
ou les paysans d'un village de Touraine comme dans 1788, le téléfilm de Maurice Failevic 1978
http://fr.wikipedia.org/wiki/1788_(t%C3%A9l%C3%A9film)
http://www.youtube.com/watch?v=fB8N1Vf7LHY ]

Historians of the French Revolution and their Publics
History and its Publics in France: Whose history? Which Public?
The Popular Front, Civil-Military Relations and the French Army's Plan to Defeat a Second Paris Commune, 1934-1936

.
de nombreux autres sujets à explorer grâce à H-France Salon....
http://h-france.net/h-france-salon/

.
.
27 mai 2018
H-France Salon (an interactive journal to enhance the scholarly study of French history and culture).
Volume 10 (2018), Issue 1 (via ND CVUH)

http://www.h-france.net/index.html
Le Cas '68 - This historical blog, produced by Chris Reynolds' students at Nottingham Trent University, addresses many of the key events and people that marked the spring of 1968 and provides both descriptions of various issues and people and links to more detailed information.
Here is a list of the previous entries:
24 May. On this day, de Gaulle made his failed television address and Paris witnessed
one of the most intense nights of violence of the 1968 events. Many see this date as a crucial turning point.
In addition, H-France Salon has already published a series of 22 recorded interviews with scholars who were in France in the spring of 1968 and from these interviews produced 18 videos based on themes related to the events and interpretation of '68. These may be found at H-France Salon, volume 9 (2017), Issue 17, #1-40.
And H-France Salon published an issue with responses to the French Historical Studies forum on May '68 at H-France Salon, volume 10 (2018), Issue 3, #1-3.




.