01 septembre 2015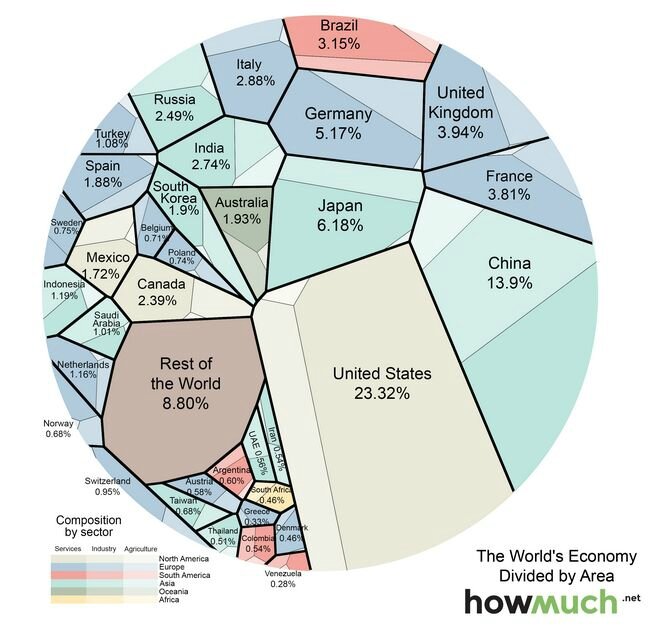 Une infographie inhabituelle publiée dans Les Echos.
- One Diagram That Will Change the Way You Look At the US Economy, HowMuch, 21.07.2015
The World Economy divided by Area

The graphic above (Voronoi diagram) represents the relative size of each country's economy in terms of nominal GDP:
the larger the area, the larger the size of the economy.
The areas are further divided into three sectors: services, industrial, and agricultural.


L'occasion de remonter à la source et d'évoquer les questions habituelles
sur le titre choisi, la validité des chiffres retenues et les choix graphiques.

HowMuch mentionne le "nominal GDP in 2014" et "Voronoi diagram"
"Rest of the World" is not divided into sectors (que dire de l'intérêt actuel des chiffres par secteur ?)
http://howmuch.net/articles/one-diagram-that-will-change-the-way-you-look-at-the-us-economy
GNP (Gross National Product = PNB) - GDP (Gross Domestic Product = PIB)

Un regard sur la seule économie des USA ?
Pourquoi l'absence de regroupement graphique des pays de l'UE ?
Tantôt un chiffre (13,9), tantôt deux chiffres après la virgule (23,32).


- Dans Wikipedia, qui adore les listes (recopie à vérifier)
des chiffres par pays, soit selon le FMI, soit selon la Banque mondiale
http://en.wikipedia.org/wiki/List_of_countries_by_GDP_(nominal)


- Quels indicateurs ?
Limites du PIB, indicateurs alternatifs
http://fr.wikipedia.org/wiki/Produit_intérieur_brut
http://en.wikipedia.org/wiki/Gross_domestic_product#List_of_other_approaches_to_the_measurement_of_(economic)_progress



- L'Atelier carto de Sciences-Po propose
cette carte du PIB par pays en 2010 classique mais parlante
(Mds $ PPA - chiffres de la Banque mondiale)
http://cartographie.sciences-po.fr/sites/default/files/maps/083_PIB_hab_2010-04.jpg

autres cartes de l'atelier de Sciences-Po en classement artisanal :
http://clioweb.free.fr/carto/cartotheque-scpo2.htm

.