06 septembre 2016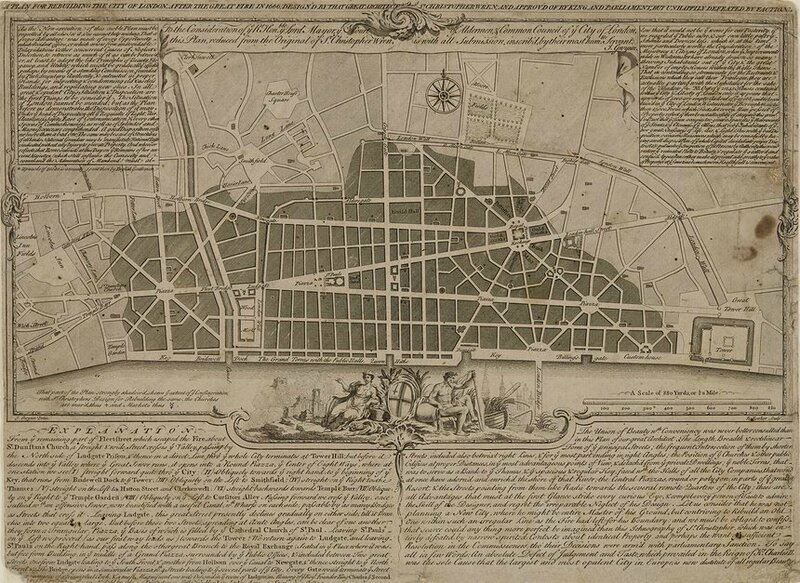 A plan for rebuilding the city of London, after the Great Fire in 1666 :
Design'd by that great architect sir Christopher Wren; and approv'd by King and Parliament; but unhappily defeated by faction
http://commons.wikimedia.org/wiki/Category:Christopher_Wren



Creation from Catastrophe – How Architecture Rebuilds Communities. The Guardian 25.01.2016

From Wren's wide boulevards to Newcourt's uniform grids,
a new exhibition at the Royal Institute of British Architects reveals the alternative plans
to rebuild London after it was destroyed by the great fire of 1666 -
http://www.theguardian.com/cities/2016/jan/25/how-london-might-have-looked-five-masterplans-after-great-fire-1666


« Five original post-fire plans offer fascinating glimpses of what might have been. None of the designs was used ».

Christopher Wren has seen Paris the previous year. He wanted to create a city of « pomp and regularity », with long boulevards connecting large plazas
« If the Wren plan had come to pass, London might have become something akin to 19th-century Paris, when Georges-Eugene Haussmann's vast redevelopment cleared the poor from the centre of the city ».

John Evelyn suggested one long, public quay along the river Thames.
« Other intriguing masterplans came from scientist Robert Hooke,
draughtsman Richard Newcourt (his plan outlined churches),
and Valentine Knight, an army officer who reputedly fought for the royalists in the English civil war.
These designs were all variations on a grid system ».


Canaletto (1697–1768) St. Paul's Cathedral, circa 1754 - Yale + G Art Project
http://commons.wikimedia.org/wiki/St_Paul%27s_Cathedral
Sir Christopher Wren (1632-1723)
La reconstruction de Saint-Paul
Le monument (1671–76) en souvenir du Grand Incendie
http://en.wikipedia.org/wiki/Christopher_Wren
http://fr.wikipedia.org/wiki/Christopher_Wren



.