26 août 2011
- Wikipedia Aims Higher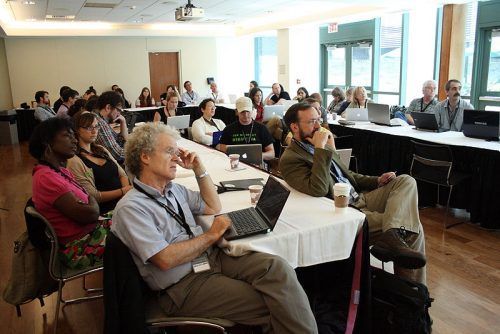 Photo Sage Ross - Commons
The Wikipedia in Higher Education Summit/Documentation
http://outreach.wikimedia.org/wiki/Wikipedia_in_Higher_Education_Summit
a eu lieu à Boston (Simmons College) et a réuni 120 participants les 8 et 9 juillet 2011.
3 articles en rendent compte, dont celui de Steve Kolowich : Wikipedia Aims Higher
http://outreach.wikimedia.org/wiki/Wikipedia_in_Higher_Education_Summit/Documentation
Voir également dans cette page wiki, les vidéos (avec le défaut habituel : filmer le conférencier ou son support ?)
et les supports de présentation.

.
- The future of Wikipedia in Education is now
.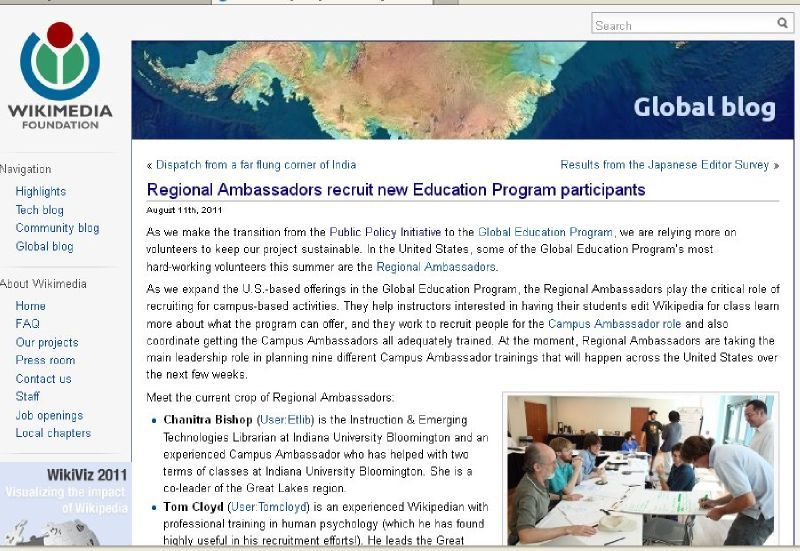 During the 2010–11 academic year, the Wikimedia Foundation started an experimental pilot project (the Public Policy Initiative) to explore the challenges and opportunities of student-based Wikipedia-editing on a larger scale. More than 800 students from 22 U.S. universities contributed about 5,600 pages of high quality content to the English Wikipedia.
http://outreach.wikimedia.org/wiki/Public_Policy_Initiative

« We have built a strong knowledge base about running a class-based program as well as the tools needed to implement it (training handbooks, brochures on how to start editing, how-to videos, sample syllabi, etc.) » note Frank Schulenburg

Beginning in 2011 the Global Education Program will follow.
We are planning to have more than 10,000 students enrolled in our program by 2013... The Ambassador training will be put online. Tools that enable participants to share their materials and best practices more effectively will be developed.
Frank Schulenburg, Global Education Program Director
http://blog.wikimedia.org/2011/07/29/for-wikipedia-in-education-the-future-is-now/

.