22 avril 2015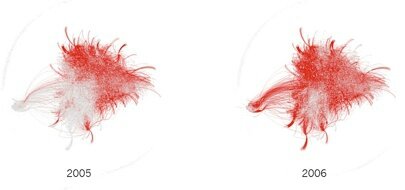 Esther Weltevrede and Anne Helmond, The dutch blogosphere in transition (detail)



Where do bloggers blog ?
Platform transitions within the historical Dutch blogosphere
by Esther Weltevrede and Anne Helmond
First Monday, Volume 17, Number 2 - 6 February 2012
http://firstmonday.org/ojs/index.php/fm/article/viewArticle/3775/3142

Our study suggests that Dutch bloggers increasingly blog on in the .nl space despite the more general trend of software concentration and domination of actors like Blogger and WordPress.

l'article est cité par Camille Paloque-Berges, Méthodologie et outils pour l'analyse d'archives Web, 21.04.2015 (tw MD) :
sur la liste de l'Association of Internet Researchers (AOIR), http://aoir.org/
un échange relatif à la captation de données dans les archives de Internet archive http://archive.org//

.