02 février 2018
Prêter la Tapisserie de Bayeux au Royaume-uni ?
What Macron's Loan of the Bayeux Tapestry Really Means for Britain
Sam Knight, The NewYorker 29.01.2018
http://www.newyorker.com/news/news-desk/what-macrons-loan-of-the-bayeux-tapestry-really-means

- Accent utile sur l'histoire des usages de la Tapisserie depuis le XVIIIe
Andrew Ducarel 1752 : http://en.wikipedia.org/wiki/Andrew_Ducarel#Wider_antiquarianism
exposition à Paris en 1803, en lien avec le projet d'invasion du RU par Napoléon Bonaparte
- Présentation historique surprenante :

. 230 feet of couched stitches and terse Latin phrases, etheral names, horses, bodies and men in cloaks making promises they cannot keep...
. a (simple) medieval embroidery stitched by Anglo-Saxons near Cantorbury
. Le lobbying de Michael Lewis depuis 2008 en faveur du British Museum


L'analyse des liens supposés avec le Brexit peut surpendre, mais c'est sans doute de l'humour au 3eme degré :-)

. « The Bayeux Tapestry, after all, tells a story of English betrayal followed by English defeat and the onset of Continental rule »
. « the moment when a free, mystical, Anglo-Saxon kingdom was overthrown
by a feudal aristocracy from France, with its new castles, language, and laws. »
. Le parallèle supposé entre 1066 et « Britain's supposed subservience to Brussels »
. William, « the last foreigner to take the English throne by force »
. William, l'importation d'une « Continental rule »
La Tapisserie, c'est surtout une oeuvre exceptionnelle
et un excellent support pour étudier et enseigner le monde médiéval au XIe
http://clioweb.free.fr/peda/tapisserie-bayeux.htm
.
21 novembre 2016
The Political Scene. Obama Reckons with a Trump Presidency -
Inside a stunned White House, the President considers his legacy and America's future. David Remnick The NewYorker 28,11,2016
http://www.newyorker.com/magazine/2016/11/28/obama-reckons-with-a-trump-presidency

extraits d'un très long article (60 000 signes) du New Yorker

« Obama was "cautiously optimistic."
There were reasons to be so. His Presidency, after all, had seemed poised for a satisfying close. As recently as early 2015, the Obama Administration had been in a funk. He had underestimated ISIS; Putin had annexed Crimea; Syria was a catastrophe. His relations with the Republicans in Congress, especially since the crushing 2014 midterms, were at an impasse. Then, in a single week in June, 2015: the Supreme Court ended years of legal assaults on Obamacare; the Court ruled in favor of marriage equality; and, at a funeral following the murder of nine congregants at a black church in Charleston, Obama gave a speech that captivated much of the country. Rather than focus on the race war that the killer had hoped to incite, he spoke of the "reservoir of goodness" in the living and the dead and ended by singing "Amazing Grace."»

« A sense of energy and accomplishment filtered back into the Administration. Long before Election Day, books were being published about its legacy: an economy steered clear of a beckoning Depression, the rescue of the automobile industry, Wall Street reform, the banning of torture, the passage of Obamacare, marriage equality, and the Lily Ledbetter Fair Pay Act, the end of the war in Iraq, heavy investment in renewable-energy technologies, the appointment of Sonia Sotomayor and Elena Kagan to the Supreme Court, the killing of Osama bin Laden, the Iran nuclear deal, the opening of Cuba, the Paris agreement on climate change, two terms long on dignity and short on scandal. Obama's approval ratings reached a new high. Clinton's election as the first female President would complete the narrative, and Obama, his aides suggested, would be free to sit in the healing sun of Oahu and contemplate nothing more rigorous than the unrushed composition of a high-priced memoir. »

During the campaign, « Obama and his staff spoke to the networks and the major cable outlets, the major papers and the mainstream Web sites, and, in an attempt to find people "where they are," forums such as Bill Maher's and Samantha Bee's late-night cable shows, and Marc Maron's podcast. But they would never reach the collective readerships of Breitbart News, the Drudge Report, WND, Newsmax, InfoWars, and lesser-knowns like Western Journalism—not to mention the closed loop of peer-to-peer right-wing rumor-mongering.

« Until recently, religious institutions, academia, and media set out the parameters of acceptable discourse, and it ranged from the unthinkable to the radical to the acceptable to policy," Simas said. "The continuum has changed. Had Donald Trump said the things he said during the campaign eight years ago—about banning Muslims, about Mexicans, about the disabled, about women - his Republican opponents, faith leaders, academia would have denounced him and there would be no way around those voices. Now, through Facebook and Twitter, you can get around them. There is social permission for this kind of discourse »

« What I'm suggesting is that the lens through which people understand politics and politicians is extraordinarily powerful. And Trump understands the new ecosystem, in which facts and truth don't matter. You attract attention, rouse emotions, and then move on. You can surf those emotions. I've said it before, but if I watched Fox I wouldn't vote for me!" »

« Perhaps the more acute personal sadness for White House staffers was the vision of Obama and Trump sitting side by side in the Oval Office. A President who fought with dignity to rescue the country from economic catastrophe and to press for progressive change—from marriage equality to the alleviation of climate change—was putting on a mask of generous equanimity for a visitor whom he had every good reason to despise, an ethically challenged real-estate brander who had launched his political career by promoting "birtherism," and then ran a sexist and bigoted campaign to galvanize his base »

« ... The federal government is an aircraft carrier, it's not a speedboat. And, if you need any evidence of that, think about how hard we worked over the last eight years with a very clear progressive agenda, with a majority in the House and in the Senate, and we accomplished as much domestically as any President since Lyndon Johnson in those first two years. But it was really hard. »

« Trump had triumphed in rural America by appealing to a ferment of anti-urban, anti-coastal feeling. And yet Obama dismissed the notion that the Republicans had captured the issue of inequality. "The Republicans don't care about that issue," he said. "There's no pretense that anything that they're putting forward, any congressional proposals that are going to come forward, will reduce inequality. . . . What I do concern myself with, and the Democratic Party is going to have to concern itself with, is the fact that the confluence of globalization and technology is making the gap between rich and poor, the mismatch in power between capital and labor, greater all the time. And that's true globally ».

« Here was the hopeful vision of diversity and dignity that Obama had made his own, and hearing these words I couldn't help remembering how he began his victory speech eight years ago. "If there is anyone out there who still doubts that America is a place where all things are possible," he said, "tonight is your answer." A very different answer arrived this Election Day. America is indeed a place where all things are possible: that is its greatest promise and, perhaps, its gravest peril ».

.


01 novembre 2016
Comment les unes dessinées du New Yorker résistent-elles à notre monde saturé de photos ?
Vincent Brunner, Slate 31.10.2016
http://www.slate.fr/story/126014/new-yorker-photos-dessin

directrice artistique du New Yorker depuis 1993, Françoise Mouly explique sa philosophie pour l'illustration de couverture du magazine, devenue un repère visuel nécessaire de notre époque.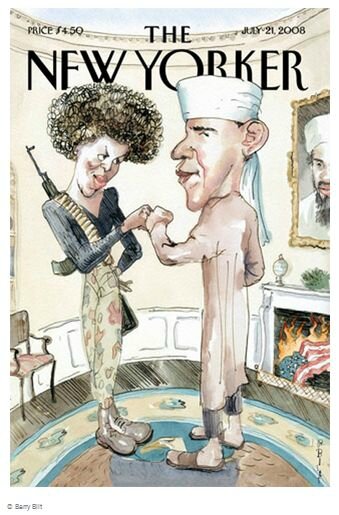 Barack Obama en sultan arabe et son épouse en Angela Davis.
dessin polémique de Barry Blitt, The New Yorker, 21 juillet 2008

.
18 avril 2015
The Rule of History - Magna Carta, the Bill of Rights, and the hold of time.
Jill Lepore The New Yorker, 20.04.2015 (source SG)
http://www.newyorker.com/magazine/2015/04/20/the-rule-of-history


In 1199, after Richard's death by crossbow, John, no longer lacking in land or soft of sword, was crowned king of England. « Many times he went to battle. He lost more castles than he gained. He lost Anjou, and much of Aquitaine. He lost Normandy »
« In May of 1215, barons rebelling against the King's tyrannical rule captured London. That spring, he agreed to meet with them to negotiate a peace. They met at Runnymede, a meadow by the Thames.
The barons presented the King with a number of demands, the Articles of the Barons, which included, as Article 29, this provision: « The body of a free man is not to be arrested, or imprisoned, or disseised, or outlawed, or exiled, or in any way ruined, nor is the king to go against him or send forcibly against him, except by judgment of his peers or by the law of the land » »...

The King died in October, 1216. He was buried in Worcester, in part because, as Church writes, « so much of his kingdom was in enemy hands ».

« By 1225, what was left—nearly a third of the 1215 charter had been cut or revised—had become known as Magna Carta. It granted liberties not to free men but to everyone, free and unfree. It also divided its provisions into chapters. It entered the statute books in 1297, and was first publicly proclaimed in English in 1300 ».

« in the seventeenth century Magna Carta became a rallying cry during a parliamentary struggle against arbitrary power, even though by then the various versions of the charter had become hopelessly muddled and its history obscured ».

« In the United States in the nineteenth century, the myth of Magna Carta as a single, stable, unchanged document contributed to the veneration of the Constitution as unalterable »

WW2 : « The Lincoln cathedral's Magna Carta was deposited in the Library of Congress where it was displayed next to the Declaration of Independence and the Constitution, with which, once the war began, it was evacuated to Fort Knox. It was returned to the Lincoln Cathedral in 1946 ».


« The rule of history is as old as the rule of law. Magna Carta has been sealed and nullified, revised and flouted, elevated and venerated. The past has a hold: writing is the casting of a line over the edge of time. But there are no certainties in history. There are only struggles for justice, and wars interrupted by peace ».
Jill Lepore cite :
Nicholas Vincent, « Magna Carta: A Very Short Introduction » (Oxford).
David Carpenter, « Magna Carta » Penguin Classics
.