08 novembre 2021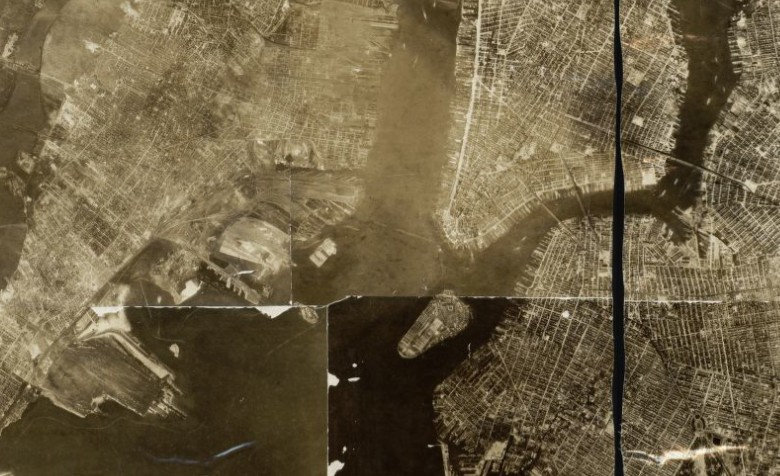 Aerial map of the city of New York 1924
https://www.loc.gov/item/96686421/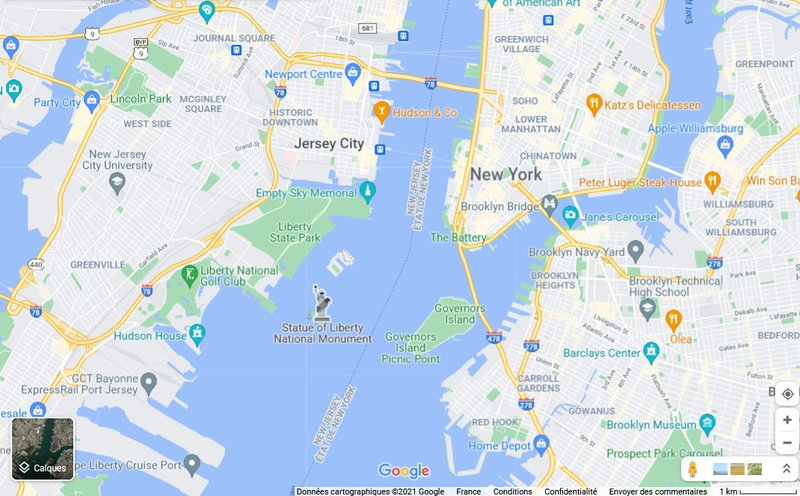 L'histoire par les cartes : cartes historiques de New York
Signalé par Maps Mania (Historical Maps of New York, 11 février 2021)
https://cartonumerique.blogspot.com/2021/02/cartes-New-York.html
.
22 mai 2019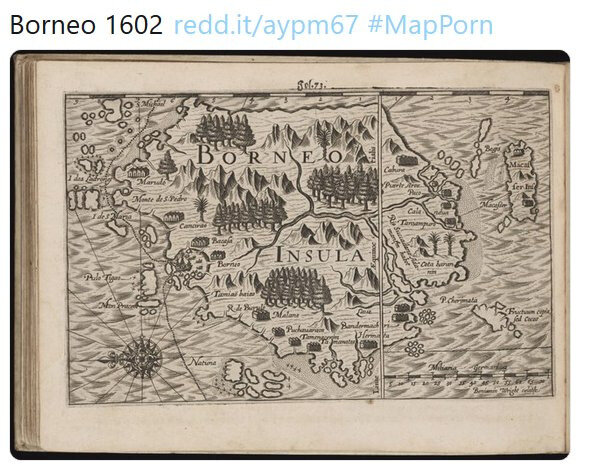 Reddit ?
> What are your thoughts? Log in or Sign up .

Google :

Mémoire bibliographique sur les journaux des navigateurs néerlandais,
réimprimés dans les collections de De Bry et de Hulsius,
et dans les collections hollandaises du XVIIe siècle,
et sur les anciennes éditions hollandaises des journaux de navigateurs étrangers :
la plupart en la possession de Frederik Muller à Amsterdam :
avec tables des voyages, des éditions et des matières / réd. par P.A. Tiele 1867

L'Histoire à parts égales. Récits d'une rencontre, Orient-Occident (XVI-XVIIe)
Romain Bertrand
- Olivier van Noort :
http://fr.wikipedia.org/wiki/Olivier_van_Noort
Description du penible voyage fait entour de l'univers ou globe terrestre : par Sr. Olivier du Nort d'Vtrecht, general de quatre navires ... Elles singlerent de Rotterdame le 2 juillet 1598. Et l'an 1601 d'aoust y tourna tant seulement la susdit navire Mauritius ... Le tout translaté du Flamand en François
Olivier van Noort; Nicolas Cornille, La Veuve de; William Marsden


- Maps of Malaysia and Borneo: Discovery, Statehood and Progress
Frédéric Durand, Richard Curtis (Dato'.)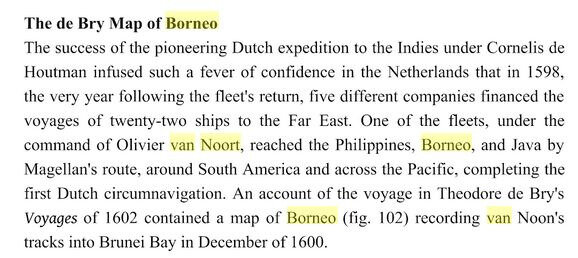 - Early Mapping of Southeast Asia: The Epic Story of Seafarers, Adventurers ...
Thomas Suarez


voir aussi :

- Borneo - David Rumsey,
http://tinyurl.com/y2mkqvbp
dont 1901 :
http://www.davidrumsey.com/luna/servlet/detail/RUMSEY~8~1~273877~90047282:Borneo
- PCL – utexas
http://legacy.lib.utexas.edu/maps/indonesia.html
- Maphistory
- Old Maps online
http://www.oldmapsonline.org/en/Borneo

.
28 février 2016
Why Children Still Need to Read (and Draw) Maps
Deborah Farmer Kris, PBS parents experts tips - via Seth Dixon
http://www.pbs.org/parents/expert-tips-advice/2016/01/children-still-need-read-draw-maps/


In a GPS world, where synthesized voices tell us when to turn...
a student who has acquired robust spatial thinking skills is at an advantage in our increasingly global and technical society
Books, difital resources, hands-On activities...

.
24 août 2015

u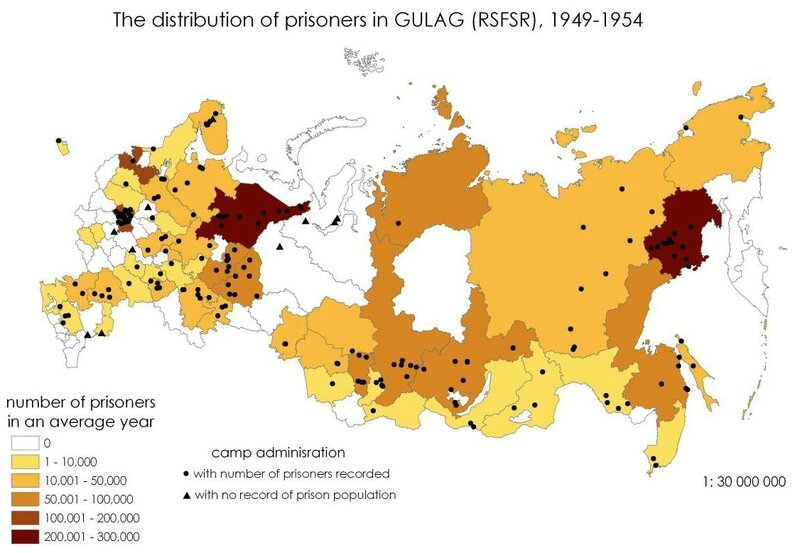 Mapping the Gulag, http://www.gulagmaps.org/maps/
- Mapping the Gulag
1 géo qui a bcp évolué, des décisions des années 1960 pèsent encore aujourd'hui
http://www.gulagmaps.org/maps/

associé au projet
Women in the Russian Penal System
Judith Pallot Oxford, Dominique Moran Birmingham, Laura Piacentini Strathclyde.
http://www.geog.ox.ac.uk/research/transformations/projects/russia/


- L'URSS et ses goulags - cartes repérées par Ph. Rekacewicz au musée de l'occupation (soviétique) à Riga
http://seenthis.net/messages/400673#&gid=1&pid=1 via @visioncarto 23.08.2015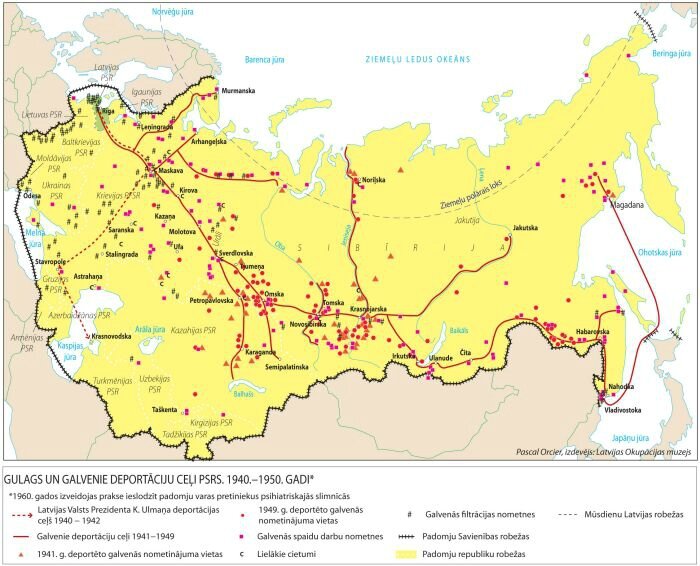 The main deportation routes and locations of the camps 1940-1950
http://latvianhistory.files.wordpress.com/2012/06/karte_deport_2.jpg

Une version de cette carte a été mise en ligne en 2012
dans l'article Soviet Mass Deportations of June 14 1941
http://latvianhistory.com/2012/06/14/soviet-mass-deportations-of-14-june-1941/
http://latvianhistory.com/

Soviet Mass Deportations from Latvia - 14 juin 1941 - 25 mars 1949
http://www.mfa.gov.lv/en/policy/information-on-the-history-of-latvia/briefing-papers-of-the-museum-of-the-occupation-of-latvia/soviet-mass-deportations-from-latvia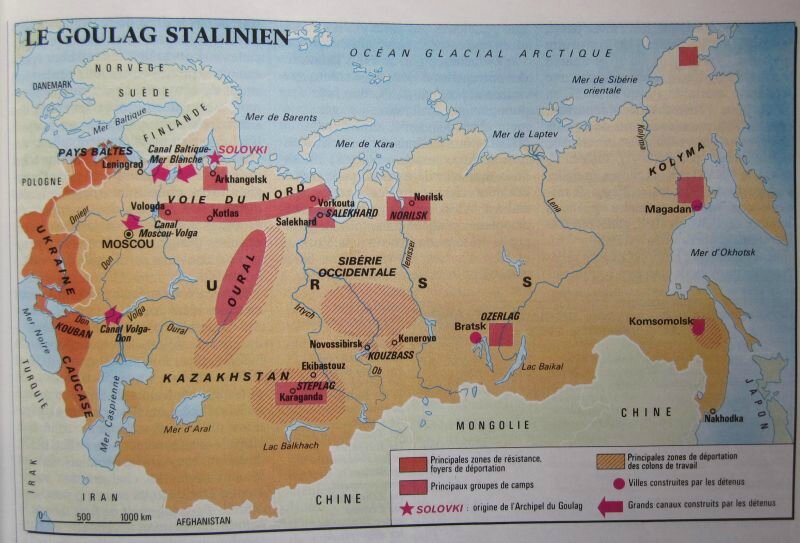 - Une carte dans l'article Nicolas Werth, Goulag les vrais chiffres, L'histoire 169 1993 p 45
- Gulag, soviet prison camps and their legacy
David Hosford, Pamela Kachurin and Thomas Lamont
A Project of the National Park Service and the National Resource Center for Russian, East European and Central Asian Studies, Harvard University
http://gulaghistory.org/nps/downloads/gulag-curriculum.pdf

Karl Qualls, Teaching the gulag with images
Karl Qualls is Professor of (Russian) History at Dickinson College.
« All images that I use come from the archive of Gulag: Many Days, Many Lives, the web project I completed with my colleagues at the Roy Rosenzweig CHNM at George Mason and with partners at the International Memorial Society and the Gulag Museum at Perm 36 ».
http://blogs.dickinson.edu/karlqualls/2012/02/29/steve-barnes-teaching-the-gulag-with-images/
http://blogs.dickinson.edu/karlqualls/2012/02/15/wilson-bell-on-the-gulag-in-survey-courses/
http://blogs.dickinson.edu/karlqualls/tag/gulag/


- The Virtual Museum of the Gulag is a project of the Research and Information Centre "Memorial" (St Petersburg).
http://www.gulagmuseum.org/start.do?&language=2
- Benjamin Pomier, prépa lycée Jean Vilar de Meaux + UMLV
http://www.geodatas.fr/g%C3%A9o-hypokh%C3%A2gne/mondes-et-antimondes/l-archipel-du-goulag/

- Goulag, le peuple des zeks
expo à Genève en 2005
http://www.expo-goulag.ch/cartes/
citation dans Geoconfluences
http://geoconfluences.ens-lyon.fr/doc/etpays/Russie/RussieFaire.htm


- Wikipedia cartes et documents de l'article Gulag
http://en.wikipedia.org/wiki/Gulag
http://en.wikipedia.org/wiki/Gulag#/media/File:ArkhipelagGulag.jpg
Commons
http://commons.wikimedia.org/wiki/Category:Gulag


- Marie Fainberg et Anna Loutsenko
Memorial ou l'émergence d'une société civile en Russie - Mai 2002
http://web.archive.org/web/20090220070924/http://www.ceri-sciences-po.org/archive/mai02/artmfal.pdf

.
30 juin 2015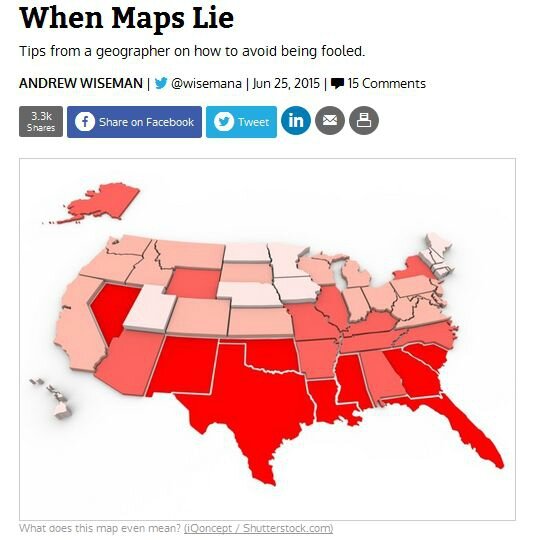 Chris Lamphear Healthiest vs Unhealthiest - United States Map
Red = unhealthiest states, White = healthiest states, based on 21 health factors measured in 2005.
Health Care State Rankings, Morgan Quinto Press
http://www.3icreative.com/psych/health-statistics.html

- When Maps Lie, Andrew Wiseman, Citylab.com (via Seth Dixon, twitter)
AW teaches cartography and GIS at the George Washington U. in Washington, D.C.

Quand les cartes mentent
dans leur conception,
ou dans leur usage public et médiatique,
par manque de qualification ou par manipulation délibérée
http://www.citylab.com/design/2015/06/when-maps-lie/396761/

Don't trust a title
The source is important
Heat and density maps can confuse
What is the cartographer trying to show? What are they trying to hide?
The way the data is distributed is important
Choropleth maps can be tricky
Base data is important, too
But maps are still good

« None of this means that all maps are bad, or that we should always be suspicious of them, or that only experts should make maps.
Maps are inherently interesting and fun (so is geography!), but a little bit of thought and increased awareness of how they can manipulate or obscure is a good thing, too. Just like advertisements and political campaigns, we shouldn't trust maps (or the data behind them) inherently, but they can still be powerful, interesting and amusing »



- L'article rappelle l'ouvrage de Mark Monmonier, How to Lie With Maps, 1ere édition Chicago 1991
http://www.markmonmonier.com/bio.htm

Comment faire mentir les cartes, ou du mauvais usage de la géographie 1993
compte rendu
http://www.persee.fr/doc/spgeo_0046-2497_1994_num_23_3_3317
version anglaise en ligne en pdf (187 p) :
http://trabajofindemaster.pbworks.com/f/Monmonier+M.-How+to+Lie+with+Maps.pdf




- A Tale from the Map Vault, Jeffrey Murray
http://www.collectionscanada.gc.ca/education/008-3060-e.html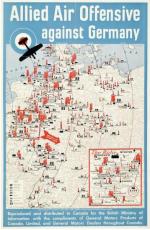 dont Figure 7. "Allied air offensive against Germany."
(Library and Archives Canada, NMC 86740)



- Parmi les cartes (qui ne mentent pas) sélectionnées par Citylab
http://www.citylab.com/posts/maps/

. An Incredibly Detailed Map of Europe's Population Shifts
http://www.citylab.com/politics/2015/06/incredibly-detailed-map-europes-population-shifts/396497/




Durchschnittliche jahrliche Bevorelkerungsentwicklung von 2001-2011 in % in dem Gemeinden
http://www.bbsr.bund.de/BBSR/DE/Home/Topthemen/bevoelkerung_europa.html
http://www.demografie-portal.de/SharedDocs/Aktuelles/DE/2015/150612_BBSR_Bevoelkerungsentwicklung_Europa.html
(avec zoom)
http://blog.tagesanzeiger.ch/datenblog/index.php/9150/wo-die-bevoelkerung-in-europa-waechst-und-schrumpft



. An Imaginary City, 50 Years in the Mapping
Jerry Gretzinger has been working on his 1,500-square-foot map for much of his life.
http://www.citylab.com/design/2015/06/an-imaginary-city-50-years-in-the-mapping/394418/

. Chicago, Baltimore, St Louis, Memphis
Cities Fracture Along Racial Lines
An ongoing project visualizes segregation data in urban areas.
http://www.citylab.com/design/2015/06/in-these-powerful-maps-cities-fracture-along-racial-lines/395852/

. A 19th Century-Style Atlas, Made With 2015 Census Data
données de 2013-2015, une visualisation rétro
Non-English language at home 2013
http://www.citylab.com/design/2015/06/a-19th-century-style-atlas-with-new-census-data/396014/

. The Invisible Borders That Define American Culture - 2012
http://www.citylab.com/politics/2012/04/invisible-borders-define-american-culture/1839/

.
22 septembre 2013


Jerry Brotton, Histoire du monde en 12 cartes, Flammarion 2013
Jerry Brotton, A History of the World in Twelve Maps, London, Allen Lane 2012
http://editions.flammarion.com/Albums_Detail.cfm?ID=44986&levelCode=sciences
A fascinating survey of cartography shows that maps never come without baggage - The Guardian
http://www.theguardian.com/books/2012/aug/24/history-world-twelve-maps-review

reviewed by Martin Dodge Society and space
http://societyandspace.com/reviews/reviews-archive/brotton/
The Telegraph -
http://www.telegraph.co.uk/culture/books/bookreviews/9556037/A-History-of-the-World-in-Twelve-Maps-by-Jerry-Brotton-review.html

Le sommaire de l'ouvrage, avec liens vers Wikipedia en anglais :

La science - La géo de Ptolémée, vers 150
http://en.wikipedia.org/wiki/Ptolemy%27s_world_map
Les échanges - Al-idrisi, le divertissement, 1154
http://en.wikipedia.org/wiki/Tabula_Rogeriana
La foi - La mappa mundi d'Hereford, vers 1300
http://en.wikipedia.org/wiki/Hereford_Mappa_Mundi
L'Empire - La carte du monde Kangnido, 1402
http://en.wikipedia.org/wiki/Early_world_maps#Kangnido_world_map_.281402.29
La découverte - Martin Waldseemuller, planisphère 1507
http://en.wikipedia.org/wiki/Waldseem%C3%BCller_map
La mondialisation - Diego Ribeiro, carte universelle, 1529
http://en.wikipedia.org/wiki/Diogo_Ribeiro
La tolérance - Gérard Mercator, carte du monde, 1569
http://en.wikipedia.org/wiki/Gerardus_Mercator
L'argent - Joan Bleu, Atlas maior, 1662
http://en.wikipedia.org/wiki/Joan_Blaeu
. http://en.wikipedia.org/wiki/Atlas_Maior
La nation - La famille Cassini, carte de France 1793
https://fr.wikipedia.org/wiki/Carte_Cassini
La géopolitique - Halford Mackinder, le pivot géographique de l'histoire, 1904
http://en.wikipedia.org/wiki/Halford_Mackinder
L'égalité - La projection de Peters, 1973
http://en.wikipedia.org/wiki/Peters_map
L'information - Google Earth 2012
.
16 août 2013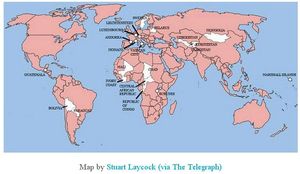 The Only 22 Countries in the World Britain Has Not Invaded


dans une page sur
40 Maps That Will Help You Make Sense of the World
http://twistedsifter.com/2013/08/maps-that-will-help-you-make-sense-of-the-world/

également :
Global Internet Usage Based on Time of Day
Earth's Population by Latitude and Longitude
Average Age of First Sexual Intercourse by Country
World Map of Earthquakes Since 1898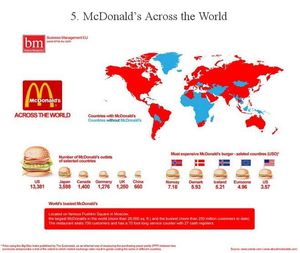 MacDo façon Business Management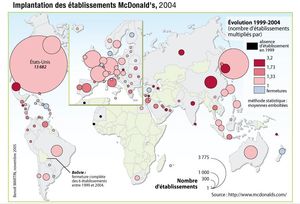 Ou MacDo façon Sciences-Po (2004)
http://clioweb.free.fr/carto/cartotheque-scpo2.htm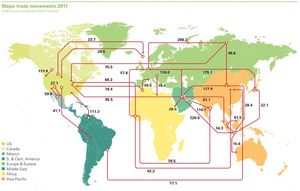 Worldwide Map of Oil Import And Export Flows selon BP
dans cette carte des flux pétroliers, de sérieux progrès sont à faire en sémiologie graphique




ou flux pétroliers version Sciences-Po
http://clioweb.free.fr/carto/cartotheque-scpo2.htm
voir aussi les cartes dans Le Monde diplomatique

.
28 décembre 2011
Les langues utilisées dans la péninsule ibérique sur Twitter - source Eric Fischer

539 - Vive le tweet ! A Map of Twitter's Languages
Frank Jacobs, Strange Maps - http://bigthink.com/ideas/41004

« Online language detection is possible due to Google's open-sourcing of the CLD (Compact Language Detector) software embedded in its Chrome browse. Mike McCandless extracted the software, Eric Fischer applied it to Twitter ».

La carte d'Eric Fischer à différentes définitions
http://www.flickr.com/photos/walkingsf/6277163176/sizes/o/in/photostream/

Data from the Twitter streaming API, May 14-October 20, 2011.




http://www.flickr.com/photos/walkingsf/6277163176/


http://www.flickr.com/photos/walkingsf/6276642489/
Eric Fischer sur Flickr - 

http://www.flickr.com/photos/walkingsf


 

.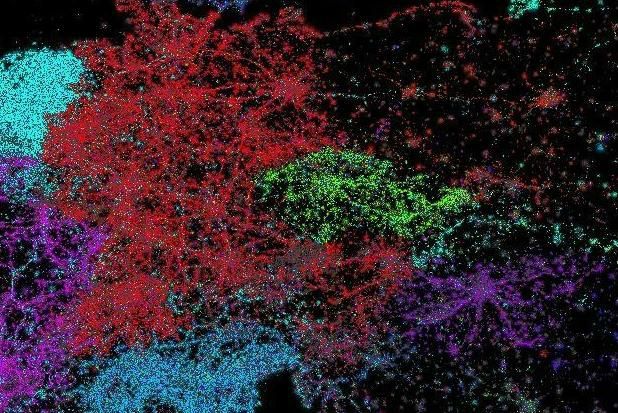 Les langues utilisées sur Twitter en Europe centrale
(L'allemand en rouge, le tchèque en vert, le hongrois en violet, l'italien en bleu)
source Eric Fischer
Commentaire de Frank Jacobs : « The fun really begins in Europe, where some of countries just vanish off the map: Belgium tweets in Dutch and French, Switzerland in mainly in German, with a French bit west of the Röstigraben (3). And other countries emerge out of nowhere: Catalans twitter in their own language, not Spanish. German dominates Central Europe, but a surprisingly large chunk of Austria appears to be tweeting in Italian - as do a lot of dots inside France ».
.



Lire également ce que Frank Jacobs écrit à propos du Québec.
http://bigthink.com/ideas/41004

Sur Strange Maps Frank Jacobs a rédigé et mis en ligne 549 billets depuis 2006. « His map "US States Renamed For Countries With Similar GDPs" has been viewed more than 587 000 times ».
http://bigthink.com/ideas/21182
Parmi les mises en ligne récentes :
538 - Just My Plug: Socket Map of the World
http://bigthink.com/ideas/40910
541 - dont Apportioning America - States sized to correspond to their political weight in Congress (in 1911).
http://bigthink.com/ideas/41207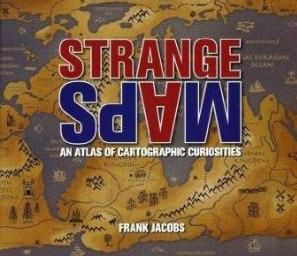 An anthology of Strange maps from Frank Jacobs' blog was published by Penguin in 2009.
http://www.amazon.fr/Strange-Maps-Frank-Jacobs


.
14 novembre 2010
- dans une lecture distanciée des cartes proposées par les auteurs de manuels

L'Europe vue par les cartographes de Barcelone (Belin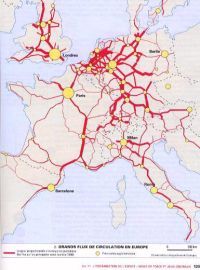 http://clioweb.free.fr/carto/cartes.htm#manuels
.
- Autre classique : l'urbanisation au nord du continent africain (par ex en Algérie ou en Libye). Où vivent les hommes ? Où sont les villes ? dans le Sahara ?
http://clioweb.free.fr/cartes.htm#manuels (Magnard 1998 - Atlas Hatier)
.
- L'évolution des techniques de carto dans les manuels, de la carte à lire à la carte à voir, du texte de commentaire aux symboles géométriques et aux cartes subjectives.
La Basse-Normandie en cartes dans les manuels :

Chabot, géographie régionale de la France, 1966
http://clioweb.free.fr/carto/bn/bn.htm
- L'ordi autorise le changement de paramètres, les essais et les erreurs éventuelles et la réflexion lors de la conception des cartes statistiques. ( à l'inverse, vers 1993, j'ai souvenir de stagiaires IUFM à qui on avait demandé de réaliser à la main une carte de l'évolution de la population par départements entre ... 1975 et 1982...)
.
Parmi les références repérées grâce à Google :
3 ouvrages :
. Mark Monmonier, Comment faire mentir les cartes, Ed. Flammarion, Paris, 1993
http://www.erudit.org/revue/cgq/1994/v38/n104/022441ar.pdf
. Jacques Bertin, La graphique et le traitement graphique de l'information, Flammarion, Paris, 1977, 250 p.
. Roger Brunet, La carte mode d'emploi, Ed. Fayard Reclus, Paris 1990, 270p.
Plusieurs articles en ligne :
Cartes et images dans l'enseignement de la géographie, Paul Arnould, Catherine Biaggi, 2004
http://eduscol.education.fr/cid46005/cartes-et-images
Patrick Poncet, Carte non fidèle à la géographie. TGV Est : Comme on le voit sur la carte, la géographie vidalienne déraille.
http://www.espacestemps.net/document2223.html
Henri Desbois, Quand les cartes se numérisent. dossier Entre image et écriture. La découverte des systèmes graphiques
Sciences humaines, juin-juillet-août 2008
L'article Carto thématique, Christine Zanin pour Hypergéo (et Belin)
http://www.hypergeo.eu/spip.php?article377
version avec une autre mise en page :
http://hal.archives-ouvertes.fr/docs/00/17/57/03/PDF/Cartographie_thematique.pdf
"il y a de plus en plus de cartes, mais la technique (nécessaire, certes) prend trop le pas sur la réflexion théorique en cartographie" écrivait Jean-Paul Bord en 2000 avant de poser une question brutale : La cartographie doit-elle divorcer de la géographie pour trouver ses propres marques et s'épanouir ?

http://cybergeo.revues.org/index501.html
Cartes et carto en ligne :
http://clioweb.free.fr/carto/carto.htm