29 juin 2015
- La Magna Carta, texte à tout faire Le Monde 25.06.2015
http://www.lemonde.fr/histoire/article/2015/06/25/la-magna-carta-texte-a-tout-faire_4662101_4655323.html

Comment un traité de paix, signé le 15 juin 1215, en pleine féodalité entre de puissants barons et un roi détesté et défait à Bouvines, s'est-il transformé en symbole universel des droits et libertés individuels ?
La Magna Carta est oubliée sous les Tudors. Edouard Coke un juriste la remet en avant dans le combat contre le droit divin et l'arbitraire de Charles 1er Stuart. Les colons américains en font la grand-mère de leur déclaration des droits en 1791. Gandhi y fait référence dans son journal en 1940, Churchill s'en sert pour convaincre Roosevelt d'entrer en guerre, Mandela l'invoque lors du procès de 1964.
David Cameron vient de s'en servir pour prétendre « remettre les droits de l'homme d'aplomb » : renationaliser des droits de l'homme universels par définition.

- The Meaning of Magna Carta since 1215, By Ralph V. Turner, History Today 09.2003
http://www.historytoday.com/ralph-v-turner/meaning-magna-carta-1215

- Magna Carta, latin et anglais
http://www.orbilat.com/Languages/Latin/Texts/06_Medieval_period/Legal_Documents/Magna_Carta.html
National Archives, Education
http://www.nationalarchives.gov.uk/education/medieval/magna-carta/

Magna Carta, Law, Liberty, Legacy, l'expo à la British Library
The modern legal interpretation of Magna Carta
United States, Mandela...
http://www.bl.uk/magna-carta


The Guardian : Generations of jurists and libertarians have revered it as an ancient guarantor of freedom and justice. In a South African courtroom in 1964, Nelson Mandela stated his respect for the document. Yet the true lesson of Magna Carta's history as revealed here is that rights have to be fought for and the roots of democracy are bloodsoaked
This bald document has more bite than all the classics of political thought. That is because it is not an abstract philosophical meditation on the nature of justice and freedom, but a blunt assertion of what rulers cannot do.
http://www.theguardian.com/artanddesign/2015/mar/12/

.
18 avril 2015
The Rule of History - Magna Carta, the Bill of Rights, and the hold of time.
Jill Lepore The New Yorker, 20.04.2015 (source SG)
http://www.newyorker.com/magazine/2015/04/20/the-rule-of-history


In 1199, after Richard's death by crossbow, John, no longer lacking in land or soft of sword, was crowned king of England. « Many times he went to battle. He lost more castles than he gained. He lost Anjou, and much of Aquitaine. He lost Normandy »
« In May of 1215, barons rebelling against the King's tyrannical rule captured London. That spring, he agreed to meet with them to negotiate a peace. They met at Runnymede, a meadow by the Thames.
The barons presented the King with a number of demands, the Articles of the Barons, which included, as Article 29, this provision: « The body of a free man is not to be arrested, or imprisoned, or disseised, or outlawed, or exiled, or in any way ruined, nor is the king to go against him or send forcibly against him, except by judgment of his peers or by the law of the land » »...

The King died in October, 1216. He was buried in Worcester, in part because, as Church writes, « so much of his kingdom was in enemy hands ».

« By 1225, what was left—nearly a third of the 1215 charter had been cut or revised—had become known as Magna Carta. It granted liberties not to free men but to everyone, free and unfree. It also divided its provisions into chapters. It entered the statute books in 1297, and was first publicly proclaimed in English in 1300 ».

« in the seventeenth century Magna Carta became a rallying cry during a parliamentary struggle against arbitrary power, even though by then the various versions of the charter had become hopelessly muddled and its history obscured ».

« In the United States in the nineteenth century, the myth of Magna Carta as a single, stable, unchanged document contributed to the veneration of the Constitution as unalterable »

WW2 : « The Lincoln cathedral's Magna Carta was deposited in the Library of Congress where it was displayed next to the Declaration of Independence and the Constitution, with which, once the war began, it was evacuated to Fort Knox. It was returned to the Lincoln Cathedral in 1946 ».


« The rule of history is as old as the rule of law. Magna Carta has been sealed and nullified, revised and flouted, elevated and venerated. The past has a hold: writing is the casting of a line over the edge of time. But there are no certainties in history. There are only struggles for justice, and wars interrupted by peace ».
Jill Lepore cite :
Nicholas Vincent, « Magna Carta: A Very Short Introduction » (Oxford).
David Carpenter, « Magna Carta » Penguin Classics
.
13 février 2015
Magna Carta, British Library Cotton MS Augustus II.106
(détail d'après Wikimedia Commons BL online gallery)
« Johannes dei gracia rex Anglie, dominus Hibernie, dux Normannie, Aquitannie et comes Andegavie, archiepiscopis, episcopis, abbatibus, comitibus, baronibus, justiciariis, forestariis, vicecomitibus, prepositis, ministris et omnibus ballivis et fidelibus suis salutem.
Jean, par la grâce de Dieu, roi d'Angleterre, seigneur d'Irlande, duc de Normandie, d'Aquitaine, et comte d'Anjou, à ses archevêques, évêques, abbés, comtes, barons, justiciers, forestiers, vicomtes, préposés, servants, et tous ses baillis et loyaux sujets, salut ».
http://www.earlyblazon.com/earlyblazon/events/magnacarta.htm


La Magna Carta Libertatum ou Grande Charte est une charte de 63 articles arrachée par le baronnage anglais au roi Jean sans Terre le 15 juin 1215. Le texte garantit les droits féodaux, les libertés des villes contre l'arbitraire royal et institue le contrôle de l'impôt par le Grand Conseil du Royaume
http://fr.wikipedia.org/wiki/Magna_Carta


« a charter agreed by King John of England at Runnymede, near Windsor, on 15 June 1215. First drafted by Stephen Langton, the Archbishop of Canterbury to make peace between the unpopular King and a group of rebel barons, it promised the protection of church rights, protection for the barons from illegal imprisonment, access to swift justice, and limitations on feudal payments to the Crown, to be implemented through a council of 25 barons »
http://en.wikipedia.org/wiki/Magna_Carta

versions en français sur le site MJP - Perpignan, digithèque :
http://mjp.univ-perp.fr/constit/uk1215.htm
- 800 years of liberty
http://magnacarta800th.com/history-of-the-magna-carta/

- Magna Carta - Law Legacy Liberty - British Libray exhibition (13.03-01.09.2015)
Magna Carta 1215
Magna Carta 1225
The Forest Charter of 1225
The papal bull annuling Magna Carta
The Articles of the Barons
http://www.bl.uk/magna-carta

The 800th anniversary of the original charter will occur on 15 June 2015, and organisations and institutions are planning celebratory events.
La Grande-Bretagne a commencé les festivités autour des 800 ans de la Magna Carta.

Suivre le fil Twitter : http://twitter.com/hashtag/MagnaCarta?src=hash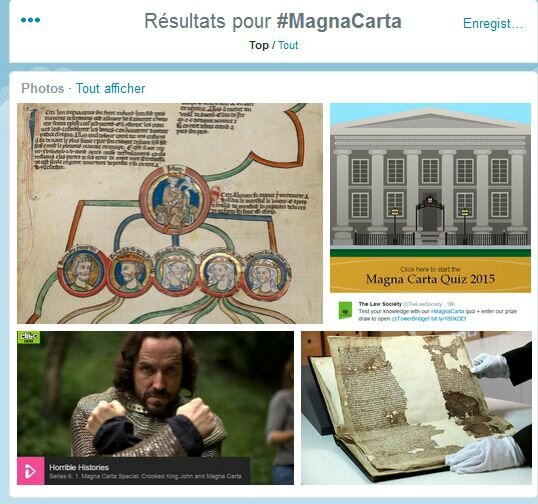 Magna Carta in Parliament
http://www.parliament.uk/business/news/2015/february/magna-carta-and-parliament/
On Thursday 5 February 2015, the four surviving original copies of Magna Carta were displayed in the Houses of Parliament

Magna Carta in Lincoln
http://www.visitlincoln.com/index.php/magnacarta
A new home and visitor centre for Lincoln's Magna Carta is currently being built in Lincoln Castle to be ready in time for the anniversary in 2015.

Le Telegraph y a surtout vu un MagnaCarta cake
This is fun, the #MagnaCarta cake (don't try this at home)
http://www.telegraph.co.uk/news/newstopics/howaboutthat/11408743/History-in-the-baking-mother-makes-copy-of-the-Magna-Carta



.