10 décembre 2014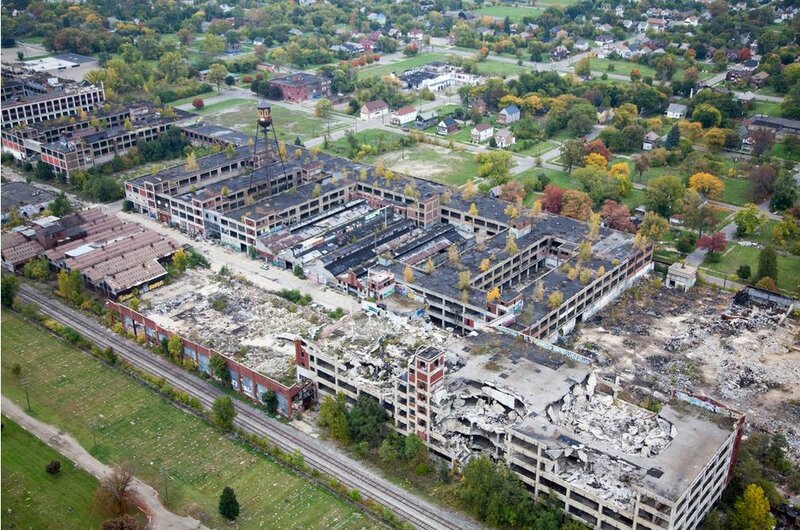 « The Packard plant, regarded as a sophisticated auto production facility when it opened in the early 1900s, is now in ruins »
Photo of Alex S. MacLean for the New York Times

Detroit by Air
http://www.nytimes.com/interactive/2014/12/07/opinion/sunday/exposures-detroit-by-air-alex-maclean.html
Photos of Alex S. MacLean for the New York Times - via @ProfessorDixon
extraits :
« I first photographed Detroit from the air during the Reagan-Carter campaign 34 years ago. Housing abandonment was well underway. The city had lost tens of thousands of manufacturing jobs as the auto industry contracted and moved parts of its operations out of Detroit. "White flight" from the city, exacerbated by race riots in 1967, also contributed to severe depopulation of the area. Meanwhile, the construction of highways allowed people to live farther away and commute to work, perpetuating the exodus to the suburbs.

When I photographed the city in 2004, Detroit was still in decline. I could see from a plane even more abandoned and burned-out buildings, rubble and foundations poking out above the ground. The situation only worsened with the 2008 recession ».

« From the air today, the decline appears to be slowing »

« Detroit's rebound is just a matter of time. Someday, I believe, it will be comparable to the once rundown sections of New York, Boston, Minneapolis and San Francisco, cities that are now thriving ».