21 août 2020
Lincoln's mail included advice, warnings and a call to shoot deserters
The Library of Congress's massive 'Letters to Lincoln' transcription project shows what filled the president's mailbox
https://www.washingtonpost.com/history/2020/08/10/letters-abraham-lincoln-library-of-congress/

Lincoln 's letters (to and from)
Correspondance de Lincoln et crowdsourcing : source Evelyne Ferron tw 17.08
« Now, transcriptions completed by thousands of volunteers are set to join the 10,000 already available online.
(In total, the Library of Congress 's Lincoln papers constitute 40,000 documents, around half of which are digitized »
https://www.smithsonianmag.com/smart-news/library-congress-crowdsourcing-program-completes-transcriptions-lincolns-letters-180975569/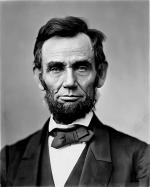 Lincoln en nov 1863
Abraham Lincoln (1809 - 1865)
https://en.wikipedia.org/wiki/Abraham_Lincoln


.
.
18 avril 2015
The Rule of History - Magna Carta, the Bill of Rights, and the hold of time.
Jill Lepore The New Yorker, 20.04.2015 (source SG)
http://www.newyorker.com/magazine/2015/04/20/the-rule-of-history


In 1199, after Richard's death by crossbow, John, no longer lacking in land or soft of sword, was crowned king of England. « Many times he went to battle. He lost more castles than he gained. He lost Anjou, and much of Aquitaine. He lost Normandy »
« In May of 1215, barons rebelling against the King's tyrannical rule captured London. That spring, he agreed to meet with them to negotiate a peace. They met at Runnymede, a meadow by the Thames.
The barons presented the King with a number of demands, the Articles of the Barons, which included, as Article 29, this provision: « The body of a free man is not to be arrested, or imprisoned, or disseised, or outlawed, or exiled, or in any way ruined, nor is the king to go against him or send forcibly against him, except by judgment of his peers or by the law of the land » »...

The King died in October, 1216. He was buried in Worcester, in part because, as Church writes, « so much of his kingdom was in enemy hands ».

« By 1225, what was left—nearly a third of the 1215 charter had been cut or revised—had become known as Magna Carta. It granted liberties not to free men but to everyone, free and unfree. It also divided its provisions into chapters. It entered the statute books in 1297, and was first publicly proclaimed in English in 1300 ».

« in the seventeenth century Magna Carta became a rallying cry during a parliamentary struggle against arbitrary power, even though by then the various versions of the charter had become hopelessly muddled and its history obscured ».

« In the United States in the nineteenth century, the myth of Magna Carta as a single, stable, unchanged document contributed to the veneration of the Constitution as unalterable »

WW2 : « The Lincoln cathedral's Magna Carta was deposited in the Library of Congress where it was displayed next to the Declaration of Independence and the Constitution, with which, once the war began, it was evacuated to Fort Knox. It was returned to the Lincoln Cathedral in 1946 ».


« The rule of history is as old as the rule of law. Magna Carta has been sealed and nullified, revised and flouted, elevated and venerated. The past has a hold: writing is the casting of a line over the edge of time. But there are no certainties in history. There are only struggles for justice, and wars interrupted by peace ».
Jill Lepore cite :
Nicholas Vincent, « Magna Carta: A Very Short Introduction » (Oxford).
David Carpenter, « Magna Carta » Penguin Classics
.
13 février 2015
Magna Carta, British Library Cotton MS Augustus II.106
(détail d'après Wikimedia Commons BL online gallery)
« Johannes dei gracia rex Anglie, dominus Hibernie, dux Normannie, Aquitannie et comes Andegavie, archiepiscopis, episcopis, abbatibus, comitibus, baronibus, justiciariis, forestariis, vicecomitibus, prepositis, ministris et omnibus ballivis et fidelibus suis salutem.
Jean, par la grâce de Dieu, roi d'Angleterre, seigneur d'Irlande, duc de Normandie, d'Aquitaine, et comte d'Anjou, à ses archevêques, évêques, abbés, comtes, barons, justiciers, forestiers, vicomtes, préposés, servants, et tous ses baillis et loyaux sujets, salut ».
http://www.earlyblazon.com/earlyblazon/events/magnacarta.htm


La Magna Carta Libertatum ou Grande Charte est une charte de 63 articles arrachée par le baronnage anglais au roi Jean sans Terre le 15 juin 1215. Le texte garantit les droits féodaux, les libertés des villes contre l'arbitraire royal et institue le contrôle de l'impôt par le Grand Conseil du Royaume
http://fr.wikipedia.org/wiki/Magna_Carta


« a charter agreed by King John of England at Runnymede, near Windsor, on 15 June 1215. First drafted by Stephen Langton, the Archbishop of Canterbury to make peace between the unpopular King and a group of rebel barons, it promised the protection of church rights, protection for the barons from illegal imprisonment, access to swift justice, and limitations on feudal payments to the Crown, to be implemented through a council of 25 barons »
http://en.wikipedia.org/wiki/Magna_Carta

versions en français sur le site MJP - Perpignan, digithèque :
http://mjp.univ-perp.fr/constit/uk1215.htm
- 800 years of liberty
http://magnacarta800th.com/history-of-the-magna-carta/

- Magna Carta - Law Legacy Liberty - British Libray exhibition (13.03-01.09.2015)
Magna Carta 1215
Magna Carta 1225
The Forest Charter of 1225
The papal bull annuling Magna Carta
The Articles of the Barons
http://www.bl.uk/magna-carta

The 800th anniversary of the original charter will occur on 15 June 2015, and organisations and institutions are planning celebratory events.
La Grande-Bretagne a commencé les festivités autour des 800 ans de la Magna Carta.

Suivre le fil Twitter : http://twitter.com/hashtag/MagnaCarta?src=hash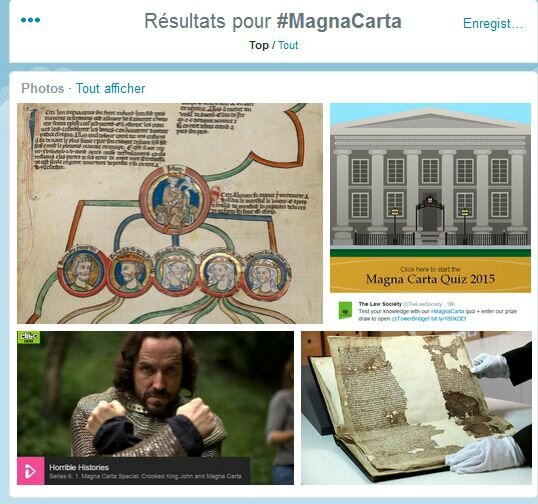 Magna Carta in Parliament
http://www.parliament.uk/business/news/2015/february/magna-carta-and-parliament/
On Thursday 5 February 2015, the four surviving original copies of Magna Carta were displayed in the Houses of Parliament

Magna Carta in Lincoln
http://www.visitlincoln.com/index.php/magnacarta
A new home and visitor centre for Lincoln's Magna Carta is currently being built in Lincoln Castle to be ready in time for the anniversary in 2015.

Le Telegraph y a surtout vu un MagnaCarta cake
This is fun, the #MagnaCarta cake (don't try this at home)
http://www.telegraph.co.uk/news/newstopics/howaboutthat/11408743/History-in-the-baking-mother-makes-copy-of-the-Magna-Carta



.
16 septembre 2013
USA : Susan Schulten, Mapping the Nation, the website
http://mappingthenation.com/index.php/home
United States. Area: Acquisition and Transfer of Territory 1780 to 1870
http://mappingthenation.com/index.php/viewer/index/5/11


Map showing the distribution of the slave population of the Suthern states of the United States.
Compiled from the census of 1860. Drawn by E. Hergesheimer. Engr. by Th. Leonhardt.
Library of Congress, American Memory Map Collections -
Tin Eye en a trouvé 52 reproductions dont une sur le blog de la Library Of Congress (oct 2012)

Schulten writes that President Lincoln referred to this particular map often,
using it to understand how the progress of emancipation might affect Union troops on the ground.
The map even appears in the familiar Francis Bicknell Carpenter portrait
First Reading of the Emancipation Proclamation of President Lincoln,
visible leaning against a wall in the lower right-hand corner of the room.
http://www.slate.com/blogs/the_vault/2013/09/04/


Susan Schulten, http://www.tatteredcover.com
d'autres cartes sont indexées par google images
Mapping the Nation, présentation par le blog Visualizing systems

.
02 mai 2013

Cette année, l'association Wikimédia France a organisé un prix international de la recherche
avec un double objectif :
- Encourager les travaux de recherche sur les projets Wikimedia, le travail collaboratif et le partage des connaissances ;
- Rendre ces travaux accessibles au plus grand nombre
5 publications ont été sélectionnées par un jury, parmi une trentaine, et soumises au vote des internautes
http://researchaward.wikimedia.fr/presentation-2/

Pour 2013, c'est un article de Roy Rosenzweig qui a été couronné :
Can history be open source ? Wikipedia and the future of the past,
publié dans The Journal of American History, en juin 2006
http://chnm.gmu.edu/essays-on-history-new-media/essays/?essayid=42

L'historien est décédé en octobre 2007.
La récompense de 2 500 € ira donc au Roy Rosenzweig Center for History and New Media.
http://chnm.gmu.edu/
autres textes publiés par le RRCHNM
http://chnm.gmu.edu/essays-on-history-new-media/essays/

Avec l'accord de l'auteur et de la revue américaine, l'article avait été traduit en octobre 2006 par Bernard Cros, Louis Capedebosq, Vincent Méry, Michel Lévêque, Anne Boucker et Daniel Letouzey. L'argumentation de Roy Rosenzweig a été très utile lors des polémiques lancées par Pierre Assouline et par tous ceux qui préfèrent un internet sous contrôle (des marchands, des institutions) à un internet faisant le pari de la mutualisation et de la neutralité.
http://clioweb.free.fr/wiki/rosen-fr.html
http://clioweb.free.fr/wiki/wikipedia.html


Une adaptation a été publiée en deux temps dans la revue Historiens & Géographes (n° 396 et n° 397)
http://clioweb.free.fr/wiki/rosenzweig.pdf

Roy Rosenzweig utilise la biographie pour apprécier la qualité des articles de Wikipedia. Dans l'exemple d'Abraham Lincoln, l'article évite les erreurs factuelles. Il illustre cependant deux défauts (de jeunesse ?) : l'accumulation excessive de détails événementiels ; une écriture verbeuse. L'article de James McPherson pour l'ANBO (Am Nat Biography Online) semble mieux informé et surtout mieux écrit. Mais il n'est pas en accès libre et gratuit.

Les historiens peuvent feindre d'ignorer le succès de Wikipédia ; ils peuvent vilipender les étudiants qui la plébiscitent ; ils peuvent refuser de prendre en compte, dans les évolutions de carrière, les compétences acquises. Selon RR, ils ont cependant beaucoup à apprendre de Wikipedia.

RR définit quatre urgences :
- Former les étudiants à un usage pertinent des moteurs de recherche.
- Renforcer la formation de l'esprit critique.
- Développer les accès gratuits aux sources de qualité.
- Ne pas hésiter à corriger ou à étoffer des articles d'histoire dans Wikipedia

Au XIX et au XXe, les érudits locaux ont participé à la collecte et à la valorisation des archives. Aujourd'hui, selon RR, une mobilisation des historiens de métier pourrait permettre l'écriture d'un manuel universitaire sur l'histoire des Etats-Unis. Ce serait une occasion de faire coopérer professionnels et amateurs, et de dépasser la dimension individualiste du métier d'historien.


.
26 janvier 2013
Avant Obama était Abraham - Corinne Lesnes - Le Monde culture & idées -
Lincoln est érigé en héros aux Etats-Unis, le film de Spielberg le souligne. En cultivant le parallèle, l'actuel président soigne sa propre légende (image ?)
extraits :
Quand il forme son premier cabinet, Obama choisit ses anciens rivaux, Hillary Clinton en tête, comme Lincoln l'avait fait avec « des conseillers mieux éduqués, plus expérimentés et dont il savait qu'ils convoitaient sa place. Quand ses concitoyens renâclent devant ses grands projets, il les exhorte à refuser le repli malgré la crise : en pleine guerre civile, Lincoln n'a-t-il pas lancé le chemin de fer transcontinental ? »
« Ses manières simples étaient trompeuses. A la Maison Blanche, il se révèle habile, employant des ruses de maquignon, distribuant lui-même les charges et les faveurs, coupant les formules en quatre pour dissimuler la vérité. Suprêmement politique, il retarde la fin de la guerre pour faire passer le 13e amendement imposant la fin de l'esclavage. Il espérait que l'abolition démoraliserait le Sud encore davantage et précipiterait la reddition ».
« Avocat, il avait le don du verbe … Son deuxième discours d'investiture est considéré aujourd'hui comme l'un des plus beaux de l'histoire américaine ».
« De son vivant, Lincoln était controversé ; mort, il a immédiatement pris rang de martyr de la patrie ».

NB : Sally Field, qui incarne Mary Todd dans le film de Spielberg, était l'invitée de Thé ou café ce dimanche matin.
L'article Mary Todd dans Wikipedia
http://the-ou-cafe.france2.fr/index-fr.php?page=emission&id_rubrique=1200

.
.