22 novembre 2015

L'ode à la France de #Blackpoodles
« France embodies everything religious zealots everywhere hate: enjoyment of life here on earth in a myriad little ways: a fragrant cup of coffee and buttery croissant in the morning, beautiful women in short dresses smiling freely on the street, the smell of warm bread, a bottle of wine shared with friends, a dab of perfume, children paying in the Luxembourg Gardens, the right not to believe in any god, not to worry about calories, to flirt and smoke and enjoy sex outside of marriage, to take vacations, to read any book you want, to go to school for free, to play, to laugh, to argue, to make fun of prelates and politicians alike, to leave worrying about the afterlife to the dead.
No country does life on earth better than the French.
Paris, we love you. We cry for you. You are mourning tonight, and we with you. We know you will laugh again, and sing again, and make love, and heal, because loving life is your essence. The forces of darkness will ebb. They will lose. They always do. »
c'est le commentaire d'un article du New York Times
http://www.nytimes.com/2015/11/14/world/europe/paris-shooting-attacks.html?smid=tw-share&_r=0#permid=16662404
par une française de Roubaix vivant depuis trente ans à Santa-Barbara
http://www.telerama.fr/medias/attentats-ce-petit-texte-americain-qui-fait-du-bien-aux-francais,134147.php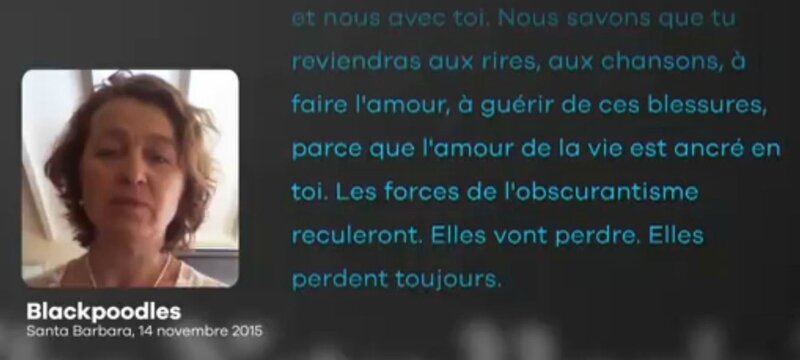 Elle lit ce commentaire devant une caméra du Grand Journal le 18.11.2015
L'ode à la France de #Blackpoodles
http://www.canalplus.fr/c-emissions/c-le-grand-journal/pid5411-le-grand-journal.html?vid=1331786
.
31 juillet 2013
* V–J Day in Times Square, la photo d'Alfred Eisenstaedt publiée par Life est tjs sous copyright.
à droite, un cliché similaire a été réalisé par Victor Jorgensen. (source wikipedia)
3/6 Un baiser peut en cacher un autre - Le Monde, série de l'été 23.07.2013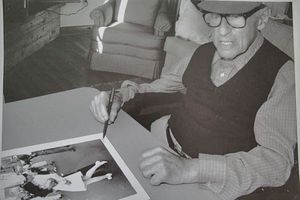 V–J day in Times Square - Eisenstaedt signe une dédicace en 1995
William Waterway Marks - commons

En 1980, 11 hommes et trois femmes (Greta Friedman, Barbara Sokol and Edith Shain) affirment être les sujets de la photo.
http://en.wikipedia.org/wiki/V-J_day_in_Times_Square
http://www.huffingtonpost.com/2012/05/02/kissing-sailor-photograph-eisenstaedt-mendonsa-friedman_n_1471058.html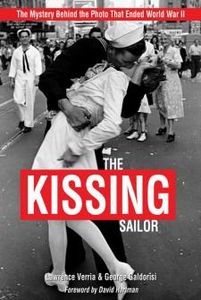 Lawrence Verria et George Galdorisi, The Kissing Sailor: The Mystery Behind the Photo That Ended World War II - USNI

Pour les auteurs, la photo est spontanée, elle n'a pas été mise en scène par le photographe.
Les auteurs identifient Greta Zimmer Friedman et George Mendonsa.
Greta était assistante dans un cabinet dentaire. Elle va à Times Square pour vérifier l'annonce de la capitulation du Japon.
Mendonsa écume les bars avec sa petite amie, et embrasse toutes les femmes qui passent à sa portée.
http://www.usni.org/store/books/aircraft-reference/american-fighters/kissing-sailor
http://www.usni.org/navalinstitutepress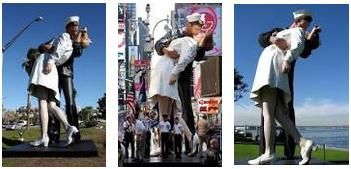 .
Unconditional Surrender - Sarasota, Times Square 2010, San Diego - source : Google images

Unconditional Surrender
Une série de statues créées par John Seward Johnson II :
La première a été exposée à Sarasota (Floride), entre 2005 et 2012
Une seconde à Tuna Harbor Park, San Diego
La troisième à Hamilton, New Jersey.
http://en.wikipedia.org/wiki/Unconditional_Surrender_(sculpture)

26.09.2014 :
Au Mémorial de Caen, la sculpture du baiser de Times Square ravive un vieux malaise, Rue 89
http://rue89.nouvelobs.com/2014/09/26/a-caen-sculpture-baiser-times-square-ravive-vieux-malaise-255091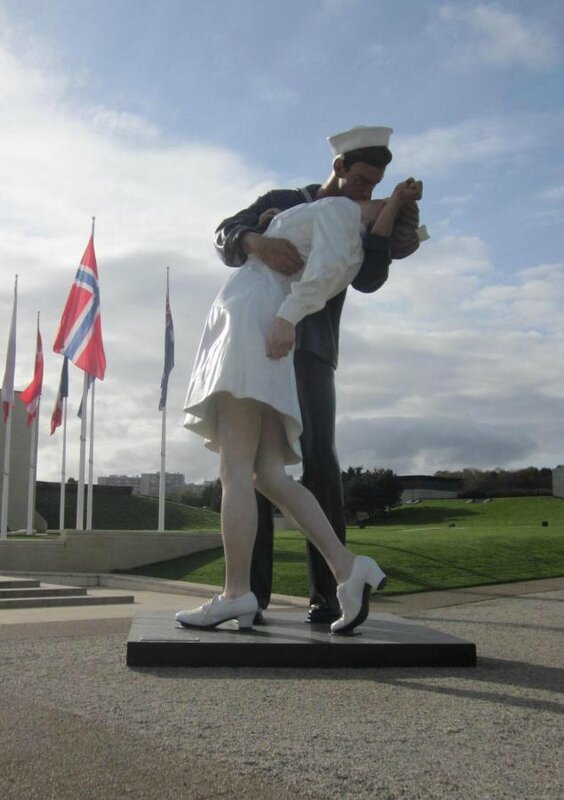 23.09.2014 - Unconditional Surrender, « The Kiss » la sculpture de Seward Johnson
(d'après la photo d'Alfred Eisenstaedt) est présentée devant le Mémorial de Caen pour un an
http://france3-regions.francetvinfo.fr/basse-normandie/2014/09/19/kiss-un-baiser-geant-devant-le-memorial-de-caen-554168.html

.