21 août 2020
Lincoln's mail included advice, warnings and a call to shoot deserters
The Library of Congress's massive 'Letters to Lincoln' transcription project shows what filled the president's mailbox
https://www.washingtonpost.com/history/2020/08/10/letters-abraham-lincoln-library-of-congress/

Lincoln 's letters (to and from)
Correspondance de Lincoln et crowdsourcing : source Evelyne Ferron tw 17.08
« Now, transcriptions completed by thousands of volunteers are set to join the 10,000 already available online.
(In total, the Library of Congress 's Lincoln papers constitute 40,000 documents, around half of which are digitized »
https://www.smithsonianmag.com/smart-news/library-congress-crowdsourcing-program-completes-transcriptions-lincolns-letters-180975569/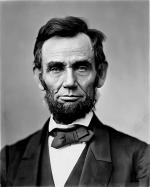 Lincoln en nov 1863
Abraham Lincoln (1809 - 1865)
https://en.wikipedia.org/wiki/Abraham_Lincoln


.
.
30 mars 2015
- Parmi les structures qui étudient l'oeuvre rédigée par Voltaire :

- The Voltaire Foundation (pr. Nicholas Cronk)
publishes in hardback and online the correspondences of key French thinkers of the XVII and XVIIIth centuries
Tout Voltaire - Complete works, version texte, sans notes critiques
An online version is planned sometime after 2018
http://artfl-project.uchicago.edu/tout-voltaire

Electronic Enlightenment (correspondance entre écrivains du XVIIIe)
http://www.e-enlightenment.com/
Le projet piloté par la Bodleian Library est en accès restreint.
67,800 items of correspondence en mars 2015

- La Société des études voltairiennes (SEV) doit beaucoup à René Pomeau.
Elle entreprend une édition critique des Oeuvres complètes
http://voltaire.lire.ish-lyon.cnrs.fr
La SEV propose des bibliographies :
. La liste des travaux couvrant la période 1966-2000
(grâce à Sylvain Menant pour le CELLF17-18 et Justine Mangeant - ENS de Lyon).
. La version électronique Bibliographie analytique des écrits relatifs à Voltaire : 1966-1990 (Frederick A Spear, Marie-Margaret H. Barr), 1968
. A Century of Voltaire study : a bibliography of writings on Voltaire, 1825-1925, Mary-Margaret H. Barr, 1929

Revue Voltaire : http://pups.paris-sorbonne.fr/catalogue/collections/revue-voltaire
Myrtille Méricam-Bourdet, Voltaire et l'écriture de l'histoire, un enjeu politique, 2012
http://xserve.volt.ox.ac.uk/VFcatalogue/details.php?recid=6516

Voltaire aux concours :
Agrégation 2008 : Voltaire, Le dictionnaire philosophique, biblio
http://voltaire.lire.ish-lyon.cnrs.fr/spip.php?article27

Littérature, ENS 2014 - Bibliographie sélective relative au Siècle de Louis XIV
http://voltaire.lire.ish-lyon.cnrs.fr/spip.php?article459


« Montesquieu plus que jamais est le maître des libéraux, Rousseau celui des démocrates, et Diderot c'est le "matérialisme enchanté". Chacun d'eux parle respectivement à notre intelligence, à notre cœur, à notre imagination. Qui se réclame encore de Voltaire ? » s'interrogeait L'Express en 1993.

.

18 décembre 2014
Voltaire, relations 1728-1778 (à vérifier) : http://ink.designhumanities.org/voltaire/
voir aussi Voltaire et ses correspondants
http://republicofletters.stanford.edu/casestudies/voltaire.html
Voltaire's Correspondences
Utilizing Visualization in the Mapping the Republic of Letters Project
Bugei Nyaosi, Stanford University, 2010
http://web.stanford.edu/group/spatialhistory/cgi-bin/site/pub.php?id=71


Cartographies de la République des Lettres (source Martin Grandjean)

A partir des correspondances, des projets liés aux digital humanities :

- Mapping the Republic of Letters - Stanford
Fom the age of Erasmus to the age of Franklin, the world of scholarship relied on its own networks:
What did these networks actually look like?
Were they as extensive as we are led to believe?
How did they evolve over time?
Mapping the Republic of Letters to answer these and other questions through the development of sophisticated, interactive visualization tools.
http://republicofletters.stanford.edu/

- "Early Modern Letters Online" : http://emlo.bodleian.ox.ac.uk/

- Cultures of Knowledge. Nertworking the Republic of Letters - Oxford http://www.culturesofknowledge.org/
The Practise of Scholarly Communication: Correspondence networks between Central and Western Europe, 1550-1700
http://www.culturesofknowledge.org/?p=4947
The Digital Humanist: Open Resources, Shared Standards, Virtual Communities
http://www.culturesofknowledge.org/?p=4936
Two case studies focusing on the epistolary networks :
. Samuel Hartlib (1600-1662) - in the late 1620s, Hartlib fled war-torn central Europe to England, where he became one of the most active reformers of the late 1630s and the ensuing civil war and republican period.
http://www.culturesofknowledge.org/?page_id=172
. Jan Amos Comenius (1592*-1670) a Moravian pedagogue and pansophist
http://www.culturesofknowledge.org/?page_id=174


- CKCC - Circulation of Knowledge and Learned Practices in the 17th-century Dutch Republic - Utrecht
http://ckcc.huygens.knaw.nl/


MG : La visualisation graphique et la cartographie,
une vision nouvelle ?
de nouveaux questionnements ?
http://www.martingrandjean.ch/histoire-visualisation-les-fascinantes-cartographies-de-la-republique-des-lettres
https://twitter.com/GrandjeanMartin
.
.