31 juillet 2015
Women in Cartography :
Celebrating 400 Years of Unsung Contributions to the Mapping World
Osher Maps Library, South Maine
March 26, 2015 to October 22, 2015
http://www.oshermaps.org/exhibitions/women-in-cartography


« This exhibition recognizes and celebrates the long overlooked role of women in the world of mapping; bringing their stories, accomplishments, and most importantly their maps to light. Curated by Alice Hudson, former Chief of the Map Division at the New York Public Library, Women in Cartography showcases the works of better-known women cartographers such as Marie Tharp, who, in partnership with Bruce Heezen, created the first scientific map of the entire ocean floor, and, Agnes Sinclair Holbrook who created the Hull-House maps, statistical cartographic presentations of social data from the immigrant rich Near West Side neighborhoods of Chicago ».

WiC checklist (pdf)
http://oshermaps.org/sites/default/files/WiC-Checklist.pdf

I. Women in the Early Modern Map Trades **
II. Women and the Modern Mapping of Place
III. Women and Pedagogy
IV. Women, CIties, and Spatial Analysis
The Osher Map Library and Smith Center for Cartographic Education [OML] is an an integral part of a the University of Maine. The OML is is committed to preserving the cartographic heritage of the state, region, and nation for future generations, and to making that heritage accessible to the University, the people of Maine, and to all other students, scholars, and visitors.
http://www.oshermaps.org/about

K 12 Education :
Field Trips, Online Lessons, Curriculum series, additional materials
http://www.oshermaps.org/education-k12

Exhibitions
The Art of the Hand-Drawn Map 2015
http://www.oshermaps.org/exhibitions/hand-drawn-map
Envisioning the World: The First Printed Maps, 1472-1700 - 2010
American Treasures, I, II, III
Maps of Spain from the Enggass Collection 1999
Africa: A Continent Revealed 1998
The World Before and After Columbus 1992
http://www.oshermaps.org/exhibitions



**
I. Women in the Early Modern Map Trades
1. Coletta (née Kaerius [van der Keere]) Hondius, engraver
2. Marie Catherine Haussard, engraver
3. Elizabeth Haussard, engraver
4. Eva van Alphen Elzevier, printer
5. Selina Price Hall, publisher
6. Elizabeth Lenthall Stone, lithographer
7. Supplement to New-York Journal, no. 2013 (June 2, 1785)
8. Weduwe [widow of] Joannis Cnobbaert, publisher
9. Elizabeth Lowe, publisher
10. Elizabeth Verseyl Visscher, publisher
11. Mary Ann Rocque, publisher
12. Penelope Steel, chart and bookseller

II. Women and the Modern Mapping of Place
13. Katherine Dudley, cartographer
14. Elizabeth Shurtleff
15. Mildred Burrage
15b. William Willis
16. Jane Crosen
17. Ruth Rhoads Lepper [Gardner], cartographer & publisher
18. Ruth Rhoads Lepper [Gardner], cartographer & publisher
19. Ruth Rhoads Lepper [Gardner], cartographer & publisher
20. Helen Prentiss Huckins
21. Constance Brown

III. Women and Pedagogy
22. Emily Hill
23. Mary Hall
24. Anna Seile, publisher
25. Emma Willard, author
26. Marinda Branson Moore
27. Sarah Sophia Cornell

IV. Women, Cities, and Spatial Analysis
28. Agnes Sinclair Holbrook
29. Agnes Sinclair Holbrook
30. Agnes Sinclair Holbrook
31. Ilonka Karasz
32. Paula Scher
33. Toy Lasker
34. Phyllis Pearsall
35. Ruth Taylor [White]
36. Joni Seager
37. Barbara Petchenik
38. Photo of Marie Tharp by Steve Sagala
39. Marie Tharp and Bruce Heezan
40. Marie Tharp and Bruce Heezan
41. Anne Potenzo Mountford
42. Photo of Anne Potenzo Mountford
43. Emily Garfield

.
04 août 2012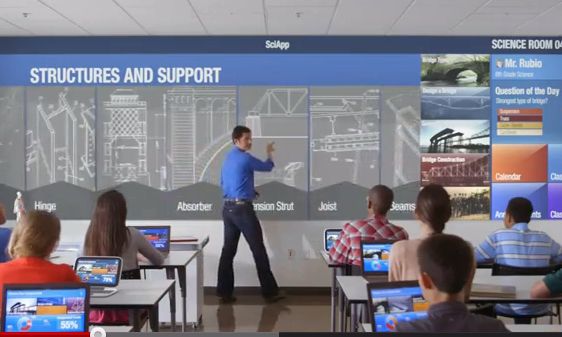 Intel 's Project Bridge
Technology to teach how to build a bridge model.
Vidéo mise en ligne le 27 juin 2012
http://www.youtube.com/watch?v=BYMd-7Ng9Y8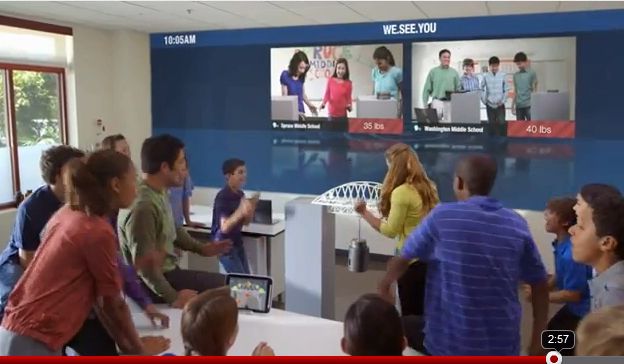 L'école du futur : un scénario mis en images et filmé pour l'industriel Intel, à voir sur Youtube.
Existe aussi pour la spéculation financière ou la gestion de la santé.

"Intel's education solutions help teachers provide innovative, personalized and
secure learning environments to prepare students for successful futures in the 21st century"
Noter les effectifs restreints (16 élèves ?) et la disposition très traditionnelle de la classe.


- Envisioning the future of education technology
Michell Zappa et les experts de TFE Research
digitized classrooms, tangible computing, virtual/physical studios
gamification, desintermediation, opening of information ...
http://envisioningtech.com/education/


A comparer avec
Changing Education paradigms - Sir Ken Robinson
TED - Technology, Entertainment, Design - octobre 2010
http://clioweb.canalblog.com/tag/robinson

Les régions et Facebook
70 % des régions ont une page FB gérée par le service de com'
http://media-cache-ec2.pinterest.com/upload/245727723389260300_bjqmxrb1.jpg