19 août 2016

Cartography in Japan
Unno Kazutaka
http://www.press.uchicago.edu/books/HOC/HOC_V2_B2/HOC_VOLUME2_Book2_chapter11.pdf


dans History of Cartography,
John Brian Harley & David Woodward,U Chicago Press 1994
(volumes disponibles en ligne en pdf, avec illustration monochrome)
http://clioweb.canalblog.com/tag/hcarto-chicago
+ chap 14,
Japanese Celestial Cartography before the Meiji Period, Kazuhiko Miyajima

extraits de la conclusion du chap 11 :
« No other civilization has preserved as many original eighth-century map documents »

« It is in the sixteenth century that coordinated efforts were made to survey and map the provinces, beginning
in 1591 with the government of Toyotomi Hideyoshi.... Large-scale maps of 1:21,600 that covered the country from northernmost Honshu to the Ryukyus were completed in the middle of the seventeenth century.

« There was no wholesale transmission of European scientific mapping until the nineteenth and twentieth centuries.
« From the mid-eighteenth century, the influx of Dutch books, globes, and maps, the introduction of the heliocentric Copernican system, and the translation of Dutch atlases of the world and treatises on globe
making into japanese enlarged the Japanese scope of the world through Dutch eyes »

The jesuit Matteo Ricci '1552-1610) ' s world map was printed in several versions and became the basis of a printed map trade for maps designed to be hung in houses or published in books and encyclopedias

« A quite different tradition, that of the Buddhist world map (map of the Five Indias), was apparently current in
the seventh century (although the earliest surviving map is from the fourteenth), and survived until the mid-nineteenth century ».

« More comparative studies between the cartographies of Japan, China, and Korea need to be undertaken »
- History of maps in Japan - Wikipedia
http://en.wikipedia.org/wiki/Japanese_maps

Old maps of Japan
http://commons.wikimedia.org/wiki/Category:Old_maps_of_Japan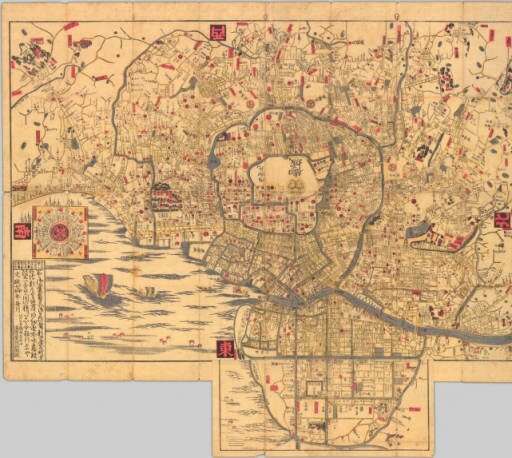 Edo 1824 - Commons
http://commons.wikimedia.org/wiki/File:Plan_of_edo.jpeg

http://open.library.ubc.ca/collections/tokugawa/items/1.0216044



..
.
16 avril 2014


NGA - Paintings frequently requested

- NGA : 35 000 peintures à télécharger gratuitement (et légalement) - L'Express 14.04.2014
La nouvelle a déjà bcp circulé sur le web,
et mis 25 jours pour traverser l'Atlantique depuis le communiqué du NGA
Release Date: March 21, 2014
The National Gallery of Art to Launch NGA Online Editions
The creation of NGA Online Editions was made possible by a generous grant from the Getty Foundation. As part of the Getty's Online Scholarly Catalogue Initiative (OSCI), the Gallery and eight other museums were tasked with finding new ways to provide authoritative information in fully accessible, user-friendly online settings. The other participating institutions include the Art Institute of Chicago; the Arthur M. Sackler and Freer Gallery of Art; the Los Angeles County Museum of Art; the San Francisco Museum of Modern Art; the Seattle Art Museum; Tate Gallery; the Walker Art Center; and the J. Paul Getty Museum. https://www.getty.edu/foundation/initiatives/current/osci/index.html
35,000 open access digital images up to 3000 pixels each
are available free of charge for download and use
https://images.nga.gov/en/page/show_home_page.html

Les bibliothécaires de Berkeley en sont restés à 20 000 en mars 2014,
http://www.lib.berkeley.edu/ARTH/arthistresources.html
Dans une veille docu sur l'histoire de l'art, en août 2013, on parlait seulement de 25 000 reproductions...
http://clioweb.canalblog.com/archives/2013/08/10/27815143.html


3 commentaires :

- Le site incontournable pour un prof d'HG, c'est l'exceptionnel Web Gallery of Art (très mal indexé par Google).
L'interface est rustique mais efficace, mais elle s'adapte à l'écran de l'ordi (utile avec un vidéoprojecteur).

voir l'entrée par le nom des peintres
http://www.wga.hu/frames-e.html?/html/
il existe une version pour l'histoire de l'art en Hongrie : http://www.hung-art.hu/index-en.html


- Un prof n'a pas besoin de 35 000 reproductions,
mais de qq dizaines de tableaux bien choisis et bien documentés.
C'est le cas par ex de la Vierge au Chancelier Rolin (excellente analyse par Le Louvre),
pour les Ambassadeurs, le tableau de Holbein,
pour le portrait d'Emile Zola par Edouard Manet,
Pour le XIXe, le site l'Histoire par l'image fait en général du très bon travail.

- Les bons musées mettent aussi en ligne des dossiers de presse voire des dossiers pédagogiques souvent très bien illustrés.
cf Gustave Courbet : http://clioweb.canalblog.com/tag/Courbet
rappel : Le NGA propose également des dossiers pour les enseignants :
Painting in the Dutch Golden Age
Edo: Art in Japan, 1615–1868
Picturing France, 1830–1900
Art since 1950
http://www.nga.gov/content/ngaweb/education/teachers/teaching-packets.html


Un des lecteurs de L'Express rappelle un sujet sensible en France :
Shakira peut se photographier à Orsay devant Olympia (sans prendre la pose de Victorine Meurent).
Mais le patron du musée a interdit la photo à tous les autres visiteurs.
http://clioweb.canalblog.com/archives/2012/08/24/24951854.html
.