04 mars 2012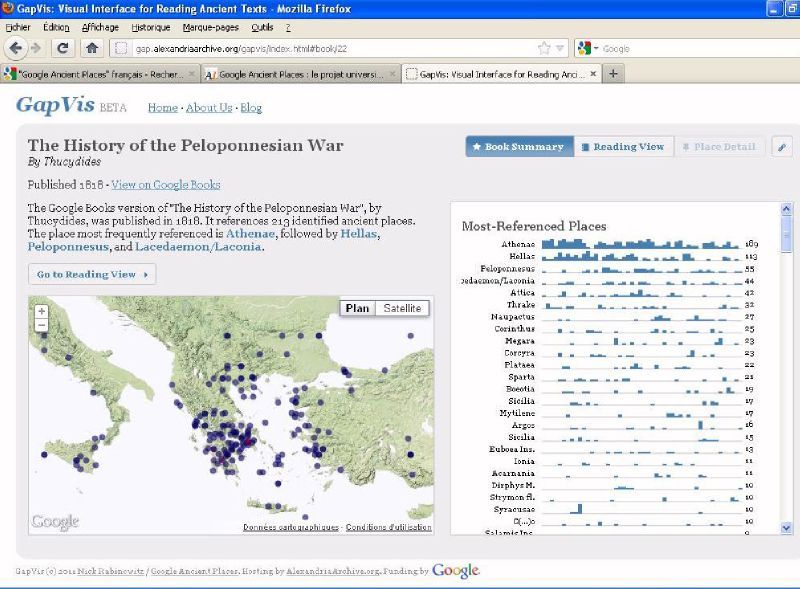 Thucydides, La guerre du Péloponèse
http://gap.alexandriaarchive.org/gapvis/index.html#book/22

GapVis - Google Ancient Places Visualization
http://gap.alexandriaarchive.org/gapvis/index.html#index

« Google Ancient Places (GAP) is developing a Web application which allows users to choose a classical text or book (from between 500 BC - 500 AD) and then search for references to ancient places within it, presenting the results in a user-friendly interface ».
« GAP uses specialized software to identify where and how often places are mentioned within a text, displaying references to the locations and plotting results on a map using an independent digital gazetteer ».

Situer les lieux mentionnés dans des textes de l'Antiquité, ou encore recenser l'ensemble des ouvrages dans lesquels le premier vers de l'Eneide a été cité. http://www.actualitte.com/actualite/


Présentation :
http://googleancientplaces.wordpress.com/gapvis/

« GapVis is the visualization interface for exploring and reading texts that reference ancient places. It includes maps and data visualizations that help you navigate through a text geospatially, see what locations are referred to at different points in the narrative, and dig into the details to learn more. The single-screen application comprises of three views :
Book Summary - The Summary view gives you a big-picture perspective on what places are referenced in the book and where they appear in the narrative structure.

Reading View - The Reading view offers an interface for reading the text, including a narrative timeline and a map of recently-referenced places.

Place Detail - The Place Detail view provides deeper information about a particular geographic location, including a network map of related places based on narrative co-reference.


- Une double question essentielle : quelle est la valeur de la version publiée et la qualité de la numérisation automatisée ?

En 2009, lors d'une journée de l'IHRF, Timothy Tackett et Nicolas Déplanche ont étudié L'idée du « complot » dans l'œuvre de Georges Lefebvre. Ils ont exploité les Archives parlementaires scannées par Google Books / Google Livres (de préférence à la version du premier Gallica). Lire leur analyse des limites d'une telle source. Lors du débat, la critique de Jean-Claude Martin avait été encore plus vigoureuse.
La Révolution française, Cahiers de l'IHRF - http://lrf.revues.org/index171.html
Les Archives Parlementaires (1ère série, 1787-1799) - http://ihrf.univ-paris1.fr/spip.php?article93