10 novembre 2016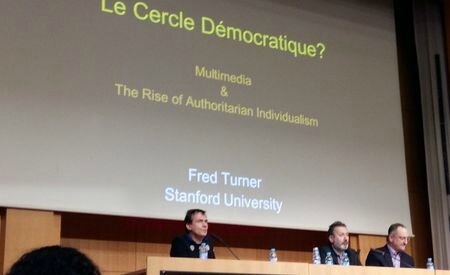 Multimedia, global democracy & authoritarian individualism
conférence de Fred Turner le 8 nov 2016 à Sciences-Po Paris
http://livestream.com/sciencespo/events/6587564/videos/141346107
en tweets
http://toptwitter.com/fr/Fred-Turner

à l'occasion de la traduction de l'ouvrage
Le cercle démocratique Le design multimédia de la Seconde Guerre mondiale aux années psychédéliques
table des matières et intro en pdf, C&F éditions
http://cfeditions.com/cercleDemocratique/ressources/cercleDemocratique_specimen.pdf

Vers la 49e mn :
A deeper irony in media history
the democratic surround of the 1940s (le cercle démocratique) avait pour but de contrer la tentation autoritaire, d'utiliser les médias au service de la démocratie
Facebook et Google tiennent aujourd'hui un discours équivalent.
« Soyez la personne que vous êtes et venez collaborer avec les autres » dit FB.

En fait, cela ne marche pas.
The trouble is the social media it didn't replace the earlier medias
Une nouvelle technologie ne remplace jamais la précedente, les technologies tendent à s'empiler.
Les medias sociaux interagissent avec les medias traditionnels. Une provocation de T. fait réagir sur Tweeter. Les réactions alimentent le contenu de FoxNews, dont les jugements à l'emporte pièce ont un écho sur Facebook. Une vision de droite s'installe, avec des techniques qui singent la proximité. Tout ceci génère des revenus publicitaires considérables.

Comment répondre ?
Par les médias sociaux ?
Par l'occupation des places ?
Avec le mouvent Occupy, nous avons les places et les coins de rue,
pendant ce temps, le Tea Party s'est organisé et peut espérer contrôler le Congrès.
Fred Turner plaide pour un combat politique concret, avec un engagement dans des structures qui peuvent soutenir l'évolution vers plus de démocratie.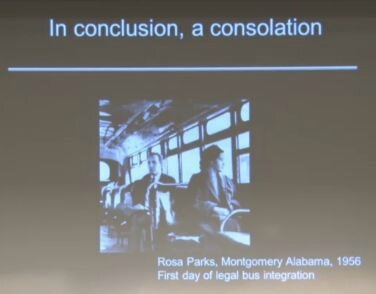 Rosa Parks 1956. First day of legal bus integration
Le combat individuel peut avoir sa place, à condition de réussir à faire bouger les lois
(le boycott des bus a duré 381 jours).
Un compte rendu de l'ouvrage The democratic Surround dans La vie des idées 23.06.2014
http://www.laviedesidees.fr/Des-medias-de-masse-au-multimedia.html

Quel rapport entre le Bauhaus, l'anthropologie culturelle, le MoMA, les premiers happenings et la musique psychédélique ? Artistes (László Moholy-Nagy, John Cage), intellectuels (Gregory Bateson, Margareth Mead), philanthropes (Abby Rockefeller), conseillers et responsables politiques ont mis leur talent au service d'une démocratie culturelle utilisant les médias au service de la démocratie afin de contrer les régimes autoritaires.
L'ouvrage inscrit un projet (politique ?) de civilisation dans la matérialité des dispositifs artistiques et médiatiques qui le servent (expositions, exhibitions, happenings)



The Democratic Surround: Multimedia and American Liberalism from World War II to the Psychedelic Sixties

« The Democratic Surround is a dazzling cultural history that demonstrates how American intellectuals, artists, and designers from the 1930s-1960s imagined new kinds of collective events—different from Fascism's crowds—that were intended to promote a powerful experience of American democracy in action. Drawing parallels across a wide set of venues—from MoMA's Road to Victory and Family of Man shows of the midcentury period to the 1959 National Exhibition in Moscow to the Happenings of the 1960s counterculture, Turner challenges us to think about the lines between information, entertainment, art, and propaganda ».
http://fredturner.stanford.edu/books/the-democratic-surround/

intro
http://culturedigitally.org/wp-content/uploads/2014/02/Intro_Turner_9780226817460_web.pdf

Fred Turner and Clay Shirky 01.02.2014
http://www.publicbooks.org/interviews/the-democratic-surround-a-conversation-between-fred-turner-and-clay-shirky

Media in the Democratic State, By Jathan Sadowski, LA review of books 12.03.2014
https://lareviewofbooks.org/article/media-democratic-state/

Mattew D Linton 16.04.2015
http://www.matthewdlinton.com/2015/04/16/the-revolution-that-wasnt-review-of-fred-turners-the-democratic-surround/


En 2006, Fred Turner a publié
From Counterculture to Cyberculture Stewart Brand, the Whole Earth Network and the Rise of Digital Utopianism
Aux sources de l'utopie numérique : De la contre-culture à la cyberculture, Stewart Brand, un homme d'influence
(traduction en 2012 C&F éditions
http://cfeditions.com/utopieNumerique/

.