29 octobre 2019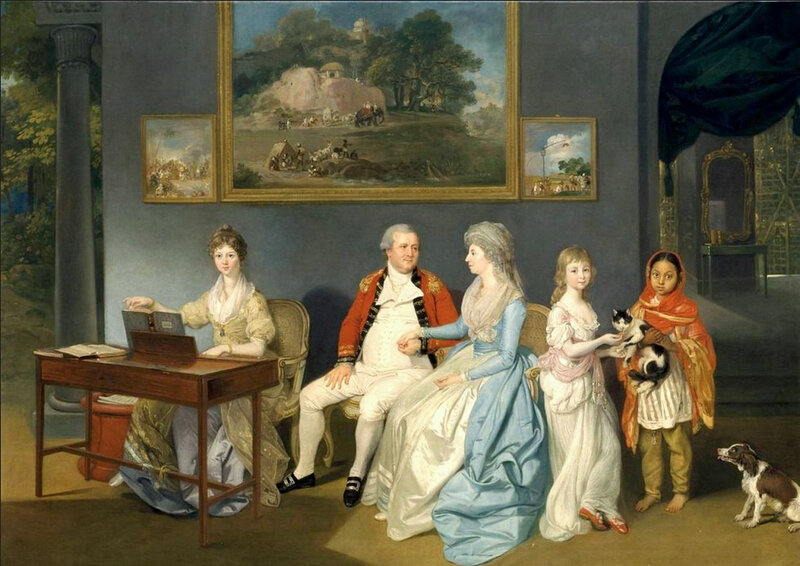 Johan Zoffany Colonel Blair with his Family and an Indian Ayah - Tate - 1786
http://www.flickr.com/photos/medievalpoc/17115064867
https://www.tate.org.uk/art/artworks/zoffany-colonel-blair-with-his-family-and-an-indian-ayah-t12610
William Blair was a Colonel in the East India Company who commanded the brigade at Cawnpore. Zoffany paints him with his wife Jane and daughters, the elder also called Jane at the piano, and Maria feeding a cat held by an Indian girl.
In the background are three paintings: a large hill scene, and two of Indian customs which fascinated and horrified westerners. One shows wood being piled for suttee, the burning alive of a widow, and the other a religious ritual of appeasement called Charak Puja in which a man is suspended by a wire between the shoulder blades
On loan : Musée du Luxembourg (Paris, France): Gainsborough to Turner: The Golden Age of English Painting

.
Johan Zoffany (1733-1810)
peintre, graveur et portraitiste allemand qui exerça en Angleterre
http://fr.wikipedia.org/wiki/Johan_Joseph_Zoffany
http://en.wikipedia.org/wiki/Johan_Zoffany

Autoportrait ca 1780
http://collections.britishart.yale.edu/vufind/Record/1668594
1769 élu membre de la Royal Academy

1771 portraits de la famille royale (George III)

1772-78 la Tribune des Offices
http://commons.wikimedia.org/wiki/File:Johan_Zoffany_-_Tribuna_of_the_Uffizi_-_Google_Art_Project.jpg
https://artsandculture.google.com/entity/%2Fm%2F0265rbw

1772 Royal Academy

1781-1796, voyage en Inde
combat de coqs, chasse au tigre, L'Entrée à Patna de l'ambassadeur du vizir d'Oude
2012 – Zoffany 's India paintings
http://www.bbc.com/news/av/entertainment-arts-17315219/johan-zoffany-s-india-paintings-at-the-royal-academy

La mort de James Cook - Hawai 1779 - tableau ca 1795
http://en.wikipedia.org/wiki/The_Death_of_Captain_James_Cook_(Zoffany)
.