11 février 2015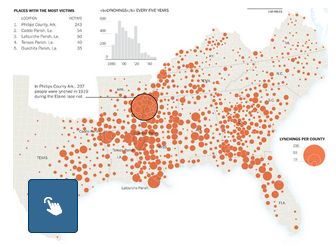 Un article de Campbell Robertson dans le
New York Times
(10.02.2015) décrit
la double démarche de Bryan Stevenson
:
- Etablir une liste (3959 victimes de lynchages dans 12 états du Sud des USA entre 1877 et 1950).
- « Select lynching sites where the organization plans to erect markers and memorials »
Stevenson considère ceux qui ont quitté ces Etats comme des réfugiés fuyant le racisme et le terrorisme. « Lynching and the terror era shaped the geography, politics, economics and social characteristics of being black in America during the 20th century ».
Des listes ont été établies dès 1882 dans
The Chicago Tribune
, depuis 1912 par The Tuskegee Institute,
en 1919 par le N.A.A.C.P, en 1995 par les sociologues Stewart Tolnay and E. M. Beck.
Leurs travaux de ces derniers sont cités dans l'article dans la Wikipédia en anglais
http://en.wikipedia.org/wiki/Lynching_in_the_United_States
dont E.M. Beck, and S.E. Tolnay, "The killing fields of the deep south: the market for cotton and the lynching of blacks, 1882-1930", American Sociological Review, 1990
- Voir la carte des victimes (1882-1968) sur le site de la Tuskegee University (N de Montgomery)
sur la page de l'histgeobox :
Billie Holiday « Strange fruit »
(1939)
http://lhistgeobox.blogspot.fr/2013/07/billie-holiday-strange-fruit-1939.html