The Awful Reign of the Red Delicious - Sarah Yager, The Atlantic - via sethdixon
With strong marketing, the worst apple took over the USA.
http://www.theatlantic.com/health/archive/2014/09/the-evil-reign-of-the-red-delicious/379892/?single_page=true
In the 1870s, Jesse Hiatt, an Iowa farmer, discovered a mutant seedling in his orchard of Yellow Bellflower trees.
After 1893, Stark Brothers' soon secured the rights to the Hawkeye, changed its name to the Stark Delicious (only after the branding of the Golden Delicious, in 1914, did it become the Red Delicious)… Over the next two decades, the nursery spent $750,000 to promote the new apple...
By the 1940s, the Red Delicious was the country's most popular apple, with the broad shoulders and lipstick shine of a Golden Age Hollywood star. La couleur et l'apparence prenant le pas sur le goût.

Then in the 1990s, new varieties that American growers had originally developed for overseas markets—including the Gala and the Fuji—began to edge into the domestic market… A sudden shift in consumer preferences, paired with growing competition from orchards in China, took the industry by surprise. Since then, Red Delicious production has declined by 40 percent. While the apple is still by far the most common in the U.S. - growers produced 54 million bushels of Red Delicious in 2011, compared to just 33 million bushels of its closest competitor, the Gala. The Red Delicious is sold in China and in South-East Asia.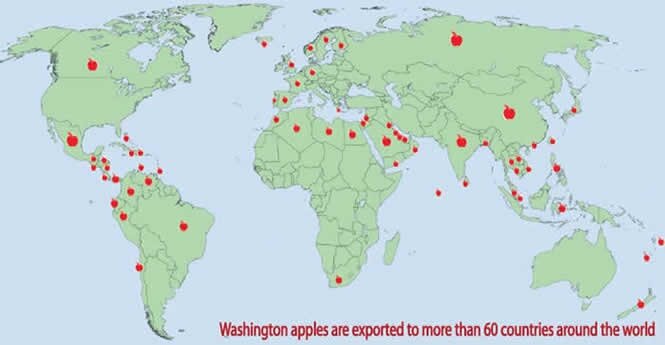 source : http://www.bestapples.com/about/anniversaryblog.aspx